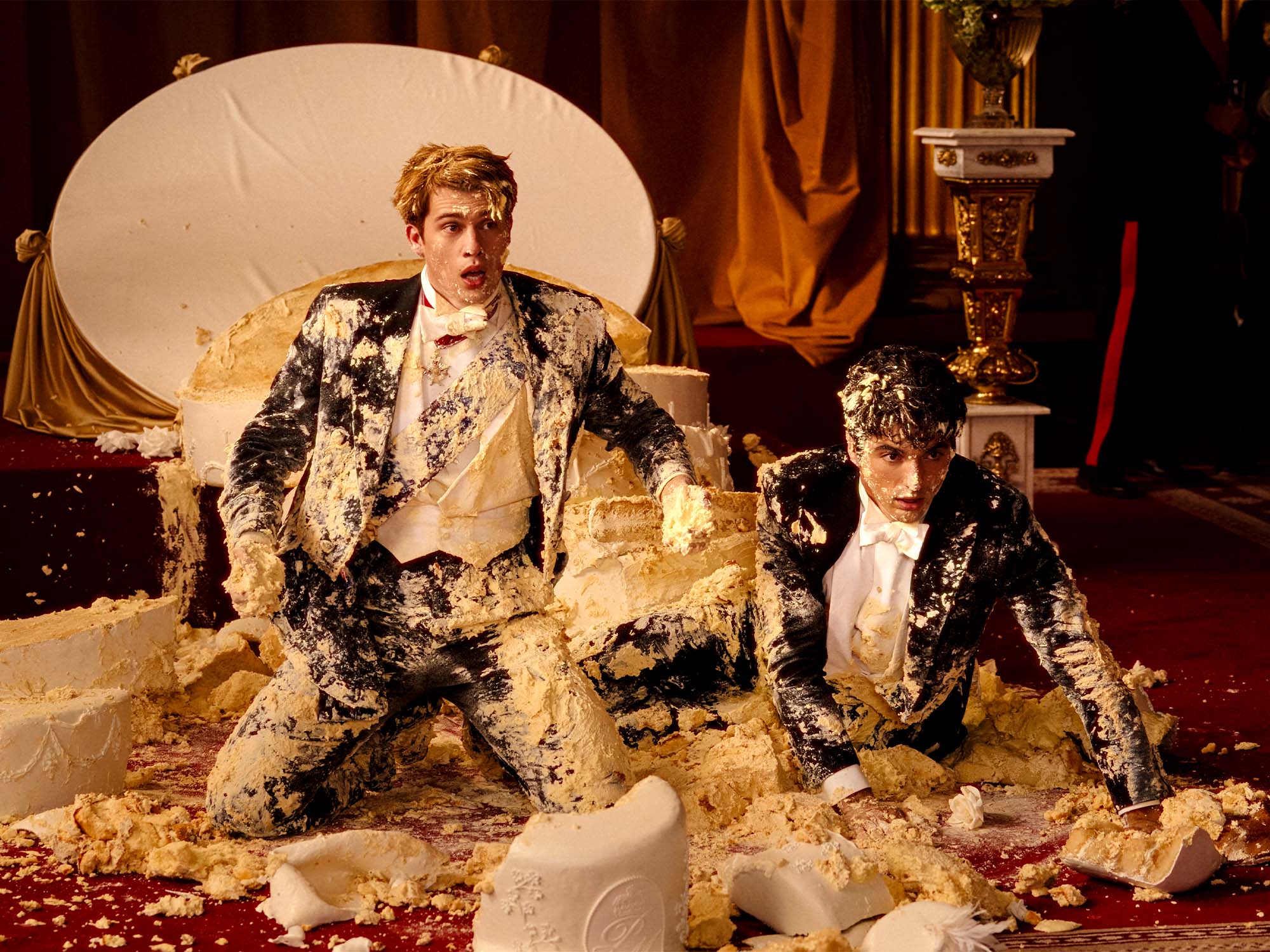 A bestselling queer romance novel about a clandestine relationship between a British prince and the US president's son gets a big screen makeover care of Matthew López, with twee but charming results.
In the Internet age there has always been one universal truth: boys kissing will always be cute. Be it gifs, porn, or the chaste hand-holding of the Heartstopper boys, you put a boy in love with another boy front and centre, and the girls and the gays will come running. That is exactly what Red, White & Royal Blue – Matthew López's adaptation of Casey McQuiston's BookTok bestseller – is banking on. Before the main titles have even kicked in, Red, White & Royal Blue has essentially skipped the 'enemies' part of its enemies-to-lovers arc, and placed its lovesick twunks firmly on the path to romance.
Despite the twee title and the YA source material, it's a fun time at the movies, and López, a playwright and unlikely choice for director (given his last major creative endeavour was the six-hour-long AIDS play 'The Inheritance'), is in on the joke. McQuiston's book is both prescient and deeply entrenched in the past – it's a gay romance set against the backdrop of the election of the United States' first female President while, in the same breath, jolly old England is a tea-and-crumpets land of castles, princes and polo. Red, White & Royal Blue is utterly divorced from any kind of recognisable reality, but it allows you to enjoy it as an immensely silly romcom, cut from the same cloth as those gay Hallmark Christmas movies.
The film follows the book's goofy, Princess Diaries-esque set-up: Alex (Taylor Zakhar Perez), the confident, highly ambitious son of the first female POTUS (Uma Thurman!) finds himself in diplomatic hot water after a public brawl with Prince Henry (Nicholas Galitzine), the British royal family's prim 'spare', and the pair are forced into feigning camaraderie to salvage the Special Relationship. It takes about ten seconds before the pair fall madly in love and start flying between nations on private jets funded by your hard-earned taxes to have sex.
Where McQuiston's text relied on pure caricature, López and Malawer add a touch more depth to the characters. Zakhar Perez and Galitzine are better comic foils than they are love interests but it's easy to buy into their uncomplicated romance. It's clear that a gay man directed it too, as Alex and Henry's sex life is handled sensitively – something a lot of other gay romcoms have had a surprising amount of trouble with.
Like those other gay romcoms – Happiest Season, Fire Island and most recently, Bros – Red, White & Royal Blue will have its haters and defenders. It's still a glossy, cinematic version of queerness, and its weightier themes – that of celebrity and being trapped in a gilded cage on both sides of the Atlantic – never feel all that weighty because they're just so fanciful. No one, perhaps with the exception of Meghan Markle or the Obama daughters, will be able to relate.
I am ultimately burying the lede because while the initial draw for Red, White & Royal Blue might be hot boys kissing, the real star of the show is Uma Thurman's stratospherically high-camp performance as Alex's mother. With a slurred Benoit Blanc-ish drawl to rival Sienna Miller's and a weird, almost stoned lethargy, Thurman delivers some magnificent line readings. She looks checked out most of the time and her decision to play the US President with a kind of loose-limbed apathy is an incredible acting choice that reminds you that Uma Thurman needs to be cast in more things. The film's energy flags when she isn't on screen to ramble about election strategies or ask her son if he's "bottoming".
There is something strangely comforting about Red, White & Royal Blue, as imperfect as it is. It's a romcom for the streaming era but it has a markedly different vibe to it because it's fronted by two men. To draw on recent Hollywood history, it feels like an improved version of Love, Simon, with the same anodyne love-is-love politics but a little sluttier and a lot more romantic. I'm sceptical that Hollywood will ever be capable of making a gay romcom that isn't twee or heavy-handed in some way, but Red, White & Royal Blue feels like a tentative step in the right direction.
Little White Lies is committed to championing great movies and the talented people who make them.
By becoming a member you can support our independent journalism and receive exclusive essays, prints, weekly film recommendations and more.
Published 10 Aug 2023
Anticipation.
Look, Uma Thurman's in a gay romcom!
Enjoyment.
Entertaining enough, but why does Uma Thurman sound like that?
In Retrospect.
Come for the hot boys, stay for Uma Thurman's accent.
About Post Author