As the lights went down at London's legendary Shepherd's Bush Empire last Tuesday evening (July 27th) for Sir Tom Jones' exclusive Surrounded By Time Album Performance Show, the euphoric roar of the crowd served as a poignant reminder of just how much we have all missed having the opportunity to see our favourite musical artists perform live in concert over the course of the past 18 months.
Different in concept to a more traditional pop show, the idea and premise behind the one night only event, was for Jones to play his new #1 album Surrounded By Time completely live in it's entirety – no gimmicks, no elaborate sets, just Tom and his live band of musicians coming together to usher in a new era in the career of one of the worlds most beloved artists.
A risky move perhaps for some artists, who are acutely aware of how more often than not they have to rely heavily on their back catalogue to win audiences over, but not for veteran performer like Jones, who commands the stage from the moment he appears from the wings to perform the shows opening number I Won't Crumble with You if You Fall.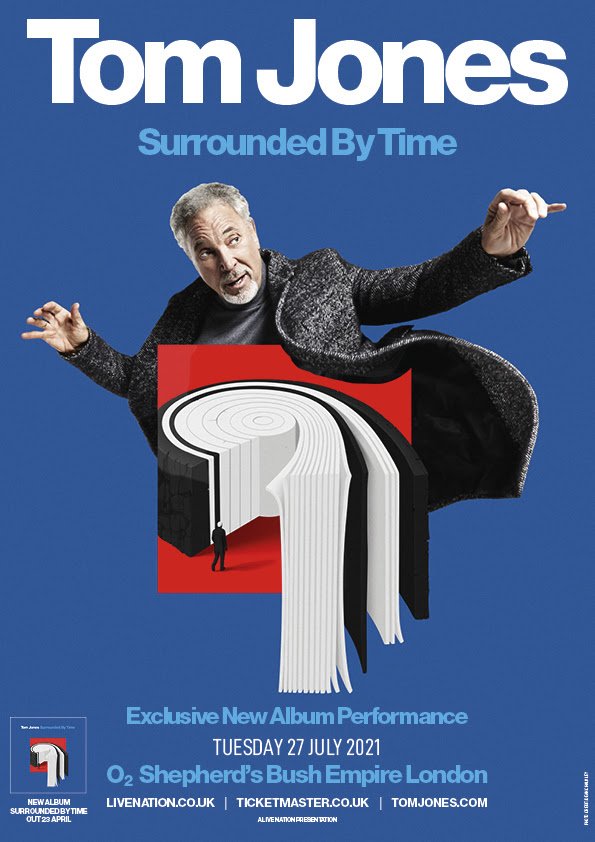 ---
"The last time I did a show, I was in my 70's. Now I'm in my 80's… how about that?"
---
Uptempo, crowd pleasers Pop Star, No Hole In My Head and the electronic inspired, spoken word Talking Reality Television Blues follow as Jones hits his stride belting out each track with an effortless ease, making it hard to believe this is a man entering his ninth decade!
However it's during some of the evenings more sombre, emotive numbers that Sir Tom manages to really hold his audiences attention, with his ever faultless, deep, rich, soulful vocal tone sounding more powerful and controlled than ever, delivering truly captivating performances of the songs deeply introspective and heartfelt lyrics.
Highlights of the night include live interpretations of tracks including I Won't Lie and I'm Growing Old – the latter a haunting, torched ballad, that Jones says was gifted to him by its writer, the legendary jazz musician Bobby Cole back in 1972. Of the encounter with Cole, Tom tells the crowd fondly: "I told Bobby, I'm not old enough to sing this yet, but maybe I'll get there one day!.. and now, well, here we are!"
Warm, engaging and effortlessly charismatic, Jones shares playful anecdotes and thoughtful observations with the crowd in-between songs throughout the night, his natural candour and ability to command the stage even when not singing, further demonstrating his unique and innate sense of showmanship, as he converses with fans as if they were close friends he's known for years.
68 years into his career as a recording artist, and still very much at the top of his game, Sir Tom Jones is a singer and performer like no other! Still very much in control of his career, Jones proves once again his immeasurable talent knows no bounds, delivering a truly memorable performance that's guaranteed to resonate in the mind of fans for many years to come!
And as he gears up to play live shows at arenas across the UK this December, we can assure you, this is the one tour you will not want to miss!
---
Let us know your thoughts on Tom Jones over on Twitter @CelebMix now!
About Post Author