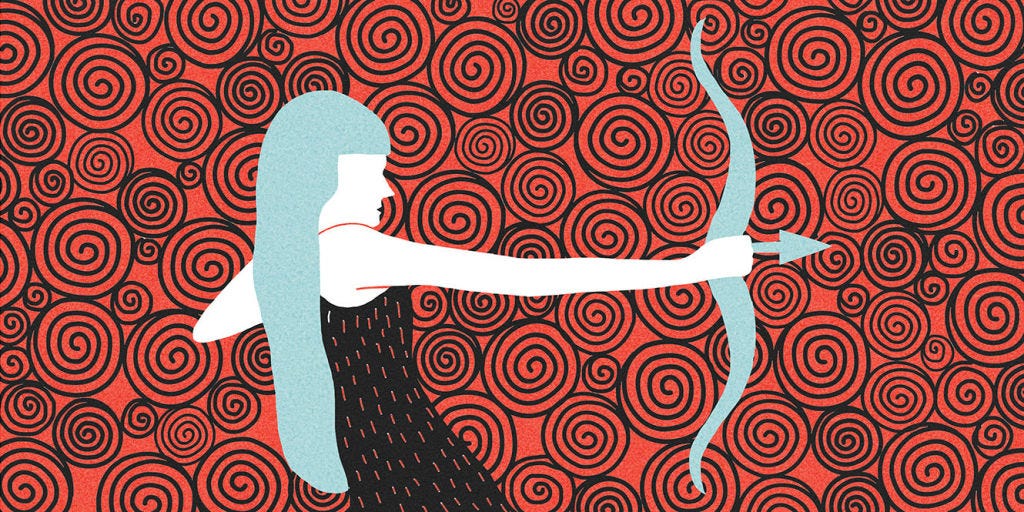 MONTH OF October
Tell your friends to bring their friends…and theirs! October gets off to a wildly social start for you, which is just the way your expansive Sagittarius spirit likes it. Not only is the Sun soaring through Libra and your eleventh house of friends, groups and technology until October 22, but this year brings a biennial visit from energizer Mars.
The revved-up red planet will zoom through Libra until October 30, heating up your networks and sparking synergies wherever you go, especially at the October 6 Libra new moon. And don't forget about the folks who knew you when! Reunions could be oh-so-fulfilling while Mercury, the planet of technology and communication, is retrograde in Libra (until October 18), bringing back people from your past. A romance, perhaps with one of these return visitors, could ignite at the October 20 Aries full moon.
Of course, that's looking on the bright side. Mercury retrograde is notorious for scrambling signals and causing technological snafus, and while it's backpedaling through this digital domain of your chart, you'll want to back up data and guard your gadgets with extra care.
The good news? Mercury may be doing an about-face, but a lot of other planets are ending theirs. Since mid-August, all five of the slow-moving outer planets (Jupiter, Saturn, Uranus, Neptune and Pluto) have been retrograde. Now they start to turn direct (forward): Pluto on October 6, Saturn on October 10, Mercury and Jupiter on October 18. This will restore momentum to your money and untangle any conflicts with colleagues, siblings and friends. Promising collaborations could pick up steam.
But your personal power could still be a little wobbly, at least until later in November. On October 22, the Sun will plunge into Scorpio and your restful twelfth house for a month, a time to tie up loose ends before Sagittarius—and your birthday—season rolls around. With action planet Mars dropping into Scorpio from October 30 to December 13, your best bet is to conserve your energy so you can go hard during the holidays and finish 2021 with your star fully aloft!
The Sun is in Libra until October 22
Gather with your tribe, Archer. The Sun is in Libra and your eleventh house of group activity until October 22, the perfect three weeks to network, entertain and collaborate. Although you're an independent sign by nature, you need people—and now is the time to put a few key players in place to support your mission. With go-getter Mars also in Libra until October 30, you could be cheered and supported by members of your circle. One or two of them could shuttle your ideas onto the fast track.
Mars adds excitement and stress in equal measure, and you may go into "people overload" at moments, having almost too much of a good thing. Teamwork does indeed make the dream work this month, but you need to have some literal dreams (as in, a good night's sleep!) to keep your energy levels up. There could be a zillion events, conference calls, video chats and parties to rsvp to, so choose selectively. And be sure to log off those social media sites whenever possible, even if your posts keep going viral!
Mars is in "detriment"—a weakened position—in Libra. After all, the planet of war isn't totally comfortable in the sign of peace. It's all too easy to overestimate what you can handle (a Sagittarius issue by nature). Better to underpromise and overdeliver than the reverse. Manage people's expectations and be sure to delegate! With Mars in this team-centric zone, you could have a power posse of capable collaborators ready to pitch in. Do your part by giving them clear instructions…then letting go and trusting.
The October 6 Libra new moon taps into teamwork
All together now! On October 6, the year's only Libra new moon beams into your eleventh house of groups and teams. This is a powerful time for networking, and, since this futuristic house rules technology, you could launch an online venture or viral piece of content. An opportunity to commune with a cutting-edge crew could catapult one of your visionary ideas into a new stratosphere. Team up for the win!
Your joint efforts will unfold between now and the April 16, 2022, Libra full moon. And they could be off to a superfast start since this year's Libra new moon arrives hand-in-hand with cosmic catalyzer Mars. With six planets in air signs today heating up your social sectors, start spreading the news about what you're up to; word will travel lightning-fast!
Pluto also turns direct on October 6
Any controlling or micromanaging tendencies start to clear up on October 6, when calculating Pluto wakes up from a five-month retrograde in Capricorn and your second house of work and money. Whew! Since April 27, the karmic planet has been reversing through this zone, driving up old fears and limiting beliefs that may have impacted your bottom line. From power struggles with coworkers to stressful money fluctuations, conditions haven't always been favorable for you, Sag. Your confidence may have taken a few hits during this cycle. Now, as Pluto returns to forward motion, you can regain a sense of power and get back into the financial driver's seat. If you've been unsure about whether to work with someone or take on a project, Pluto's course correction can help you make a clear decision.
Saturn retrograde ends on October 10
If you've got something to get off your chest or a big idea you've been dying to share, you'll find the words to articulate your vision starting October 10. Structured Saturn rouses from a four-and-a-half-month retrograde in Aquarius, activating your third house of communication and ideas. Since May 23, Saturn's backspin could have left you tongue-tied or stymied around marketing your message. People may have been resistant to your ideas. Saturn's slowdown helped you ponder the tough questions—and devise satisfactory answers for the decision makers.
Fear not, Sag: You haven't lost your powers of persuasion! Saturn's long tour, which started in March 2020, has been helping you refine your message and communicate with an air of authority.
As Saturn wraps the almost-final leg of its Aquarius journey between now and March 2023, you're learning to dwell in that middle ground. Give people a fair chance to be your partners and collaborators before writing them off at their first fumble. Increase your tolerance for human error and, above all, talk it through! Everything is a negotiation. Don't rush into things then hope for the best. Take the time to have a conversation (or three) and gather the facts!
Jupiter and Mercury retrograde both end on October 18
On October 18, expansive Jupiter and expressive Mercury both end their retrograde slowdowns. Sweet relief! Your social networks, which may have gotten stalled or snared, will get back to normal. For you, Sagittarius, that's everything.
So, where will you aim those creative arrows? Starting locally could be just the thing as outspoken and adventurous Jupiter ends a four-month retrograde through Aquarius and your third house of communication and neighborhoods. Jupiter is making a long visit to Aquarius from December 19, 2020, until December 28, 2021, expanding your social circle and community involvement. You may have considered moving to a different district or town this year or started spending time in intriguing new circles. Withclass="body-el-link standard-body-el-link" action planet Mars making an energetic
Pondering a permanent change of address? With risk taker Jupiter in this curious zone, we recommend spending a few days in the places under consideration. You might Airbnb a place and see what it would feel like to actually live there. Are there cafes, yoga studios, bookstores—whatever your go-to spots may be—within reasonable walking or driving distance? Suss out the area to make sure that your happiest lifestyle can be achieved here. As one of the zodiac's most social signs, isolating yourself is NOT an option.
The third house rules commuting and transportation, as does Mercury. If you're in the market for a new set of wheels (bike, car, skates…your call), the double direct turn of Mercury and Jupiter could help you find your ride. Siblings also fall under the third house, and philosophical Jupiter's visit could help a relationship with a brother or sister evolve to new levels of maturity. It's not easy to set aside your childhood conceptions of each other—and even those feuds born of battling for parental attention or being compared by relatives. For the rest of the year, get reacquainted as two distinct and separate people and then, who knows: You could transform old rivalries into a renewed bond.
The Aries full moon on October 20 heats up your fifth house of love and passion
Romance ignites! On October 20, the year's only Aries full moon lands in your fifth house of passion, love and self-expression. The Aries full moon can turn a simmering attraction into a full-on consummation of that chemistry. You've got the confidence to wear your heart on your sleeve today, and if everyone is willing to hear each other out calmly, this could mark a beautiful turning point that deepens your affections.
For Sags of the childbearing set, the full moon in your fertile fifth house could bring pregnancy news. And every Archer could be ripe with creativity as la luna lights your colorful and artistic zone. A visit from the muse (if not the stork) can spark some divine downloads! Earmark this day for hedonistic fun: dancing, feasting or whatever "excess" you happen to desire, safety precautions notwithstanding.
Mars-Pluto square on October 22
Go-getter Mars is blazing through Libra and your eleventh house of teamwork until October 30, catalyzing your collaborations. While it could be stressful to manage a few outsized egos and personalities, you can still triumphantly bring these people together for a commonclass="body-el-link standard-body-el-link" victory. The exception to this comes on October 22, when Mars locks into a heated square with calculating Pluto in your work and money house. Fights around funding or clashing work styles can culminate in a major ego battle. You may have to step in (or pull yourself out) if things get too heated and volatile. Do you have the confidence to pull off a major project? The answer is yes—but you might need to do some internal fortifying before YOU actually believe it. Lean on your trusted circle and reliable team members to a point, but remember: They're not your therapists!
Scorpio season starts October 22
Power down starting October 22 when the Sun shifts into Scorpio and your twelfth house of rest and endings. For the next four weeks, the Sun's low-lit position invites you to slip off the grid as much as possible for self-care and restorative activities. Shield your field if you step out into a crowd since you're susceptible to absorbing everyone's energy. Carry a grounding crystal, bring a wingperson and have a ready excuse if you need to depart early and get some shuteye! When energy planet Mars sinks into Scorpio from October 30 to December 13, you'll definitely need to conserve your resources and get extra rest.
The month is full of romantic high points for Archers! For starters, vixen Venus is making her annual sojourn through your sign from October 7 until November 5, dialing up the amorous vibes and making you feel adventurous and independent. Go ahead, Sag: Take a risk in the name of expanding your relationships. Freedom is your aphrodisiac this month. And with Venus in your self-empowered first house, you can have a lovingly honest conversation about what you need to feel happy and NOT claustrophobic.
Meanwhile, lusty Mars is powering up your social life as it revs through Libra and your collaborative eleventh house until October 30. For your free-spirited fire sign, this cycle might crank up your needs for independence and autonomy; single Archers might feel like your love life is one grand adventure. The boundary between platonic and passionate could be thin, and things could get romantic with a friend. One tiny word of caution: You might not have the self-restraint to think through potential consequences—but try to anyway.
Team efforts are the fastest route to success this month, thanks to the Sun, Mars and an October 6 new moon in Libra and your collaborative eleventh house. While you'll need to navigate the obstacles of Mercury retrograde in this zone (conduct due diligence before teaming up), there's no question you can go ten times as far when you join up with a supportive squad. Don't be afraid to speak up and ask for what you need. With assertive Mars here, the key is being direct yet diplomatic. This will take extra finesse when working with a team. Err on the side of politeness at all times, Sag.
The spotlight comes calling at the October 20 Aries full moon, a day to step out of the shadows and perform your solo act. A creative project, or just your natural talents, could draw attention and even bring fame. Embrace that celebrity status and give your fans the performance they want!
Love Days: 19, 24
Money Days: 4, 12
Luck Days: 29, 10
Off Days: 21, 26, 8
This content is created and maintained by a third party, and imported onto this page to help users provide their email addresses. You may be able to find more information about this and similar content at piano.io