Paul Thomas Anderson's love letter to growing up in the San Fernando Valley in the early 1970s bombards us with memorable scenes that are by turns hilarious, revolting and touching. Licorice Pizza is, indeed, a mass repository for future cult scenes.
There's the one where Alana Kane (played by Alana Haim, one third of sisterly genre-bending musical trio HAIM) drives a truck backwards at full speed with its engine off down the hilly Encino byways in order to escape the wrath of Bradley Cooper's unhinged producer Jon Peters. Or how about the sequence where Tom Waits directs Sean Penn's Jack Holden (a walking homage to William Holden) in a drunken motorcycle stunt on a restaurant golf course that almost knocks Alana unconscious.
However, the scene I want to focus on takes place between the four blue walls of the Kane family's dining room, rather than beneath the expansive skies of the Valley, in which a Shabbat ceremony takes place; allegedly inspired by a real Passover dinner experienced by the Haim sisters who described it as "the most awkward ever". To reflect that reality further, the Kane family are all played by the real-life Haims: mother, father and three daughters. What makes this scene one of the most delightful in the film – and perhaps PTA's unique spin on cringe content – is that it comprises carefully engineered elements which together coalesce into a catastrophic portrait of a family on the verge of a nervous breakdown.
But to get to the eye of the cyclone, we must start with the outsider, Lance Brannigan. Lance is main guy Gary Valentine's slightly older, slightly cooler colleague/rival, who has managed to score a date with Alana due to his purported maturity. He's played by Skyler Gisondo, who after his ultra-charming turn as Jared in Olivia Wilde's Booksmart, landed the role of another scene-stealing nuanced goof.
Lance is a lovable show-off douche with astonishing self-belief and confidence. This knack for endearing himself to others proves to be ironic as he point-blank refuses to say the Hamotzi blessing because his "personal path" has led him to "atheism". Of course this is an irrelevant point, Judaism being an ethno-religion where faith is no prerequisite for identity, as highlighted within this cinematic context by the work of Jewish author PJ Grisar. Atheist or not, Lance is still a Jew, and by refusing the Kane patriarch's offer to take part in their tradition, he kickstarts an hilarious existential argument with Alana in the frontline.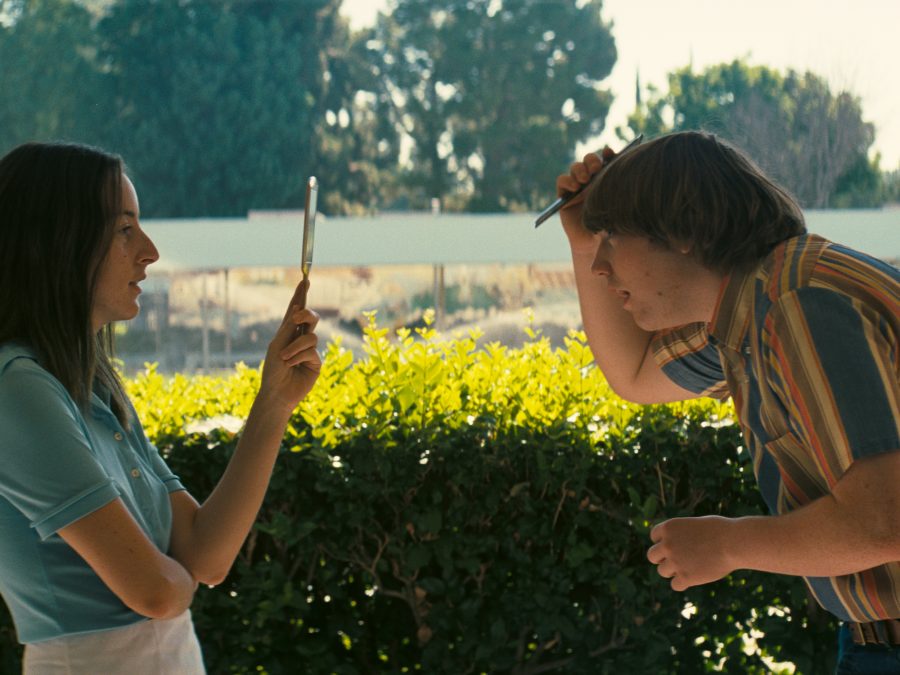 Lance is soon ushered out of the house after a private conversation with Alana about the look of his penis (a true confirmation of his Jewishness) before the youngest Kane marches back in for a confrontation with her father. Alana is still trying to please her family, especially her father, by bringing home Jewish boys, but as she grows older she realises that, while her Jewishness largely defines her, it's not all of her, and it shouldn't have to factor in to who she dates.
This generational shift from religious conservatism to a more liberal outlook is highlighted in her furious justification of why she brought Lance home: he's an actor, and a famous one at that. Shouldn't that be enough? Shouldn't what he chooses to be be more important than what he intrinsically is? Alana believes it, but not in every situation. She can't escape who she is, and she takes pride in it. Barbra Streisand, Peters' girlfriend who is alluded to but unseen in the film, is the reference behind Alana's "Jewish nose" that agent Mary Grady highlights during their meeting (another contender for best scene).
However, what makes the Shabbat scene immediately stand out is the family dynamics of the Kane family. On one side of the house, calmer sister and mother duo Danielle and Donna retreat to clean and tidy, while golden child Este remains in the vicinity of the argument, quiet but smug. Alana, the youngest, most-explosive child, who wants nothing more than to make her mark, and Moti, the iron fist of the family, lock horns. Until Alana's gaze and wrath turn to Este, upon whom she chooses to level her frustrations since there is only so far one can go against their own parents. Indeed, the submissive relationship she has with her father does call into questions her (controversial) claims to be in her early twenties.
The realism of sisterly rivalry and the microaggressions that come hand-in-hand with that unique dynamic is captured by PTA through a series of rapidly edited, loudly-expressed insults and accusations. It's a miniature masterclass in comic digressions and the combustible situations that ultimately keeps family life dangerously exciting.
Support our independent journalism and receive monthly film recommendations, exclusive essays and more
Published 24 Mar 2022
About Post Author