In the last couple of years the ongoing discourse surrounding the aspirational work-life balance has exploded, with the pandemic leading to re-evaluations of work and play seeping into mainstream dialogues. As we're continually reminded: we all have the same 24 hours to work hard, earn money, and subsequently work harder to earn more money. With the pandemic putting a strain on livelihoods, the time to exist outside of work has only become plagued by the anxieties of employment. Ben Stiller's new show, Severance, asks whether a bifurcation of the brain would offer any solution to this dilemma. Moreso, is the lived experience of total separation between life and work a dream or a nightmare?
The Apple TV+ show from the mind of Dan Erickson revolves around a team of data inputters – Mark (Adam Scott), Irving (John Turturro) and Dylan (Zach Cherry) – working on an office floor. All the Lumon Industries employees have undergone a severance procedure: the input of a brain chip that splits the working self (the innies) from the outside world self (the outies). As they enter the elevator each morning and exit to leave each evening, they switch between innie and outie states, each having no concept of what the other is like or doing with their lives. It is the epitome of an impenetrable work-life boundary. But when new arrival Helly (Britt Lower) rejects life as a dead-minded worker, the workforce begins to reassess the true nature of their work-life relationship.
On a bad workday, the idea of being able to turn off work mode sounds like heaven, but Severance exposes how this hard-set divide can become hellish for the innie trapped in a neverending workday. The central quartet of innies spend their days in an office cubicle void of daylight, on ass-numbing chairs. The perils of corporate drudgery are the norm and motivation comes in the form of mundane perks like Lumon-branded erasers, finger traps, and the promise of a waffle party (it has to be seen to be believed!) if they have a successful quarter. The incentives are as tedious as the endless stark white corridors of the building that resemble a rat maze.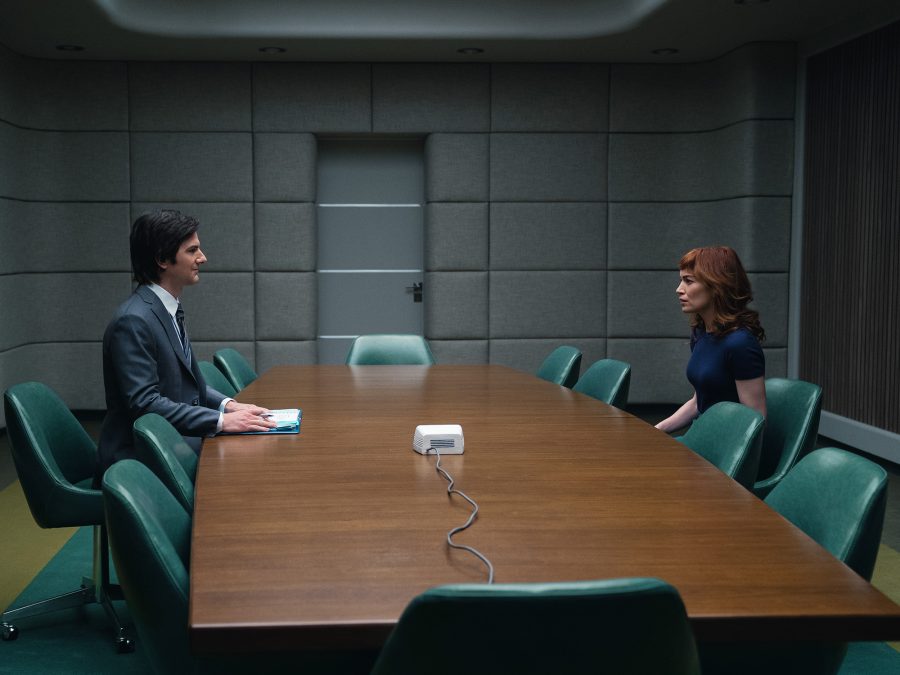 Severance deploys familiarity – office romances, a distaste for the higher-ups, brutally minimalist office cubicles (there is some incredible set design) – to ground its astute insights into corporate culture. But tears begin to appear in this workplace framework with Helly's frustrations and a message from, Petey (Yul Vasquez), a previously severed work colleague of Mark. Petey is trying to warn Mar of the insidious intent behind the sinister biotech corporation he works for.
Scott's performance is magic here, essentially playing two entirely different personas that are gradually merging into one man at odds with everything he's ever known. Inside Lumon, they all bow down to the revered Kier Egan whose demand for subservience is enforced by Ms Cobell (Patricia Arquette) and Mr Milchick (Tramell Tillman).
Unsevered, Cobell and Milchick pivot from agreeable to unforgiving with frightening speed. Alongside the pair, some employees also hold up this status quo, like Irving who is such a stickler for the rules that he has memorised company policy and takes new recruits around the office with the astute comprehension of a museum guide.
Unionising is impossible, rules are law, and interdepartmental friendships are forbidden. The latter is tested when a connection between Irving and Burt (Christopher Walken) teeters towards something more: a budding office romance that has both of them willing to abandon the employee code of conduct. As we learn more about each employee through watercooler small talk, it becomes clear severance has materialised as a coping mechanism for some of them. Mark, for instance, agreed to the procedure after losing his wife. The show's nuance is two-fold: this relationship with work sets one half of the self free but imprisons the other.
As rebellion bubbles inside the walls of Lumon like brewing office coffee, the show delves into unsettling territory. There is a deep intelligence to this intricate, Kaufman-like storytelling that refuses to spoon-feed easy answers to any of the interwoven plot points. For instance, precisely what these protagonists are working towards – by sorting encoded lines of data into unnamed files by their emotional response to the numbers – is unknown, but a gut feeling says it's malevolent. Severance demonstrates how emotionally draining mundane office life can be and in doing so paints Lumon in the same glossy, crack-covering exterior that coats our real-world corporate culture.
Although conceptualised five years ago, this propulsive, idiosyncratic show arrives with a strangely timely sting. In our current climate, the workplace has undergone substantial transformation in the pandemic and Severance is all too aware of the realisation that the work-life balance is unstable. The show, quite unintentionally, feels like a response to the fact our bedrooms now double as offices and the boundary between work and home has shrunk indefinitely. Severance posits that the dream of a truly separate work-life balance may, in fact, be a nightmare.
Published 7 Apr 2022
About Post Author