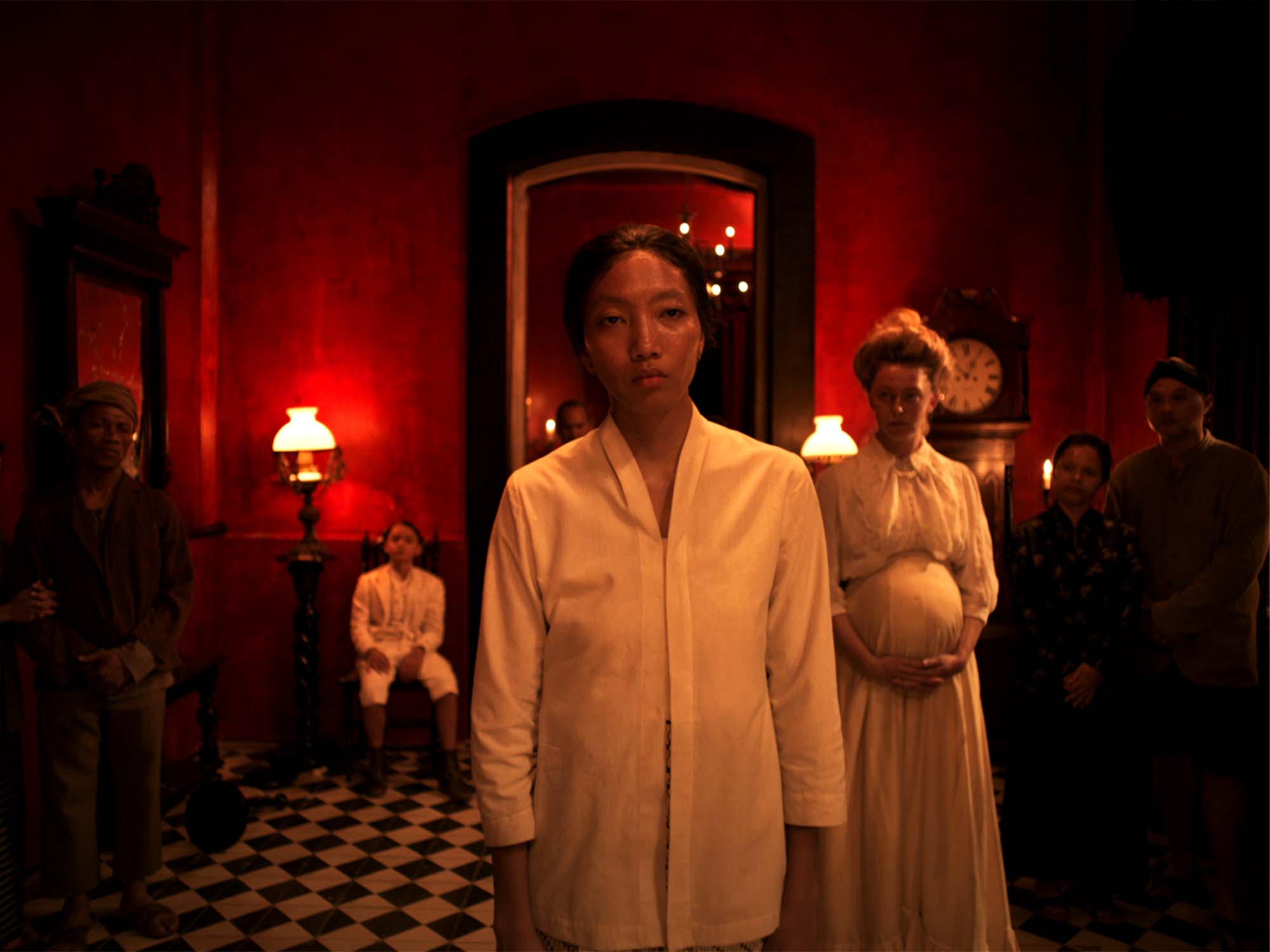 Ena Sendijarević hits the sweet spot with this offbeat, surreal period piece set on a remote Indonesian island.
Ena Sendijarević's penchant for the idiosyncratic and absurd continues with her second feature, a thoroughly enjoyable period piece that deals with complex colonial dynamics without ever succumbing to oversimplification. Following her highly stylised and similarly offbeat feature debut, Take Me Somewhere Nice, the Bosnian-Dutch director now trains her eye on a remote Indonesian island in 1900 and the waning influence of the Dutch colonial regime.
The subject here concerns a composite of various people, rather than any particular historical figures. Dutch plantation and factory owners Jan (Hans Dagelet) and Agathe sit comfortably at the top of the food chain, and despite the fact that the native workers have been striking for over a year, the pair enjoy a lavish lifestyle in a bawdy colonial home that sticks out like a sore thumb amidst the island's luscious nature.
We take it that their aloof housekeeper Siti (Hayati Azis), a complex, mysterious character through which the work's more poignant symbolism is expressed, has been habitually subjected to the Dutch patriarch's urges, as it's a secret to no one in the vicinity that Jan is the father to her young son, Karel.
When Jan returns to his and Agathe's bedroom after his nightly visit to Siti and shows obvious signs of struggling to breathe, Agathe takes the matter into her own hands and… does absolutely nothing about it. The day following her husband's death, she writes to her son Cornelis (Florian Myjer) to give him some good news ("your father has died") and some bad news ("you need to come quickly or the sugar factory will have to close"), and to threaten him by withholding his allowance if he does not make haste.
Cornelis and his very heavily pregnant wife Josefien (Lisa Zweerman) then embark on the long journey. When it's revealed that Jan's will names an unexpected heir to his estate, a demented game of cat and mouse ensues, heightened by an effective use of classical music and grandiose string arrangements that make the colonists' schemes seem all the more farcical.
Cinematographer Emo Weemhoff along with production designer Myrte Beltman, who also collaborated with Sendijarević on her feature debut, create a gorgeous mood dominated by vibrant and muted colours alike. Deep browns and burnt ochres are illuminated by lamplight in the workers' quarters and the factory, while jarring shades of red and emerald adorn the interiors of the colonial home. This is a self-contained microcosm replete with great attention to detail.
Sweet Dreams is gorgeously shot, masterfully composed and tightly framed within an Academy aspect ratio, its stylised storytelling never ceasing to captivate. Comparisons to films like The Favourite and last year's Corsage are inevitable – these films have a great deal in common and sit neatly in the pantheon of great offbeat period pieces.
Published 5 Aug 2023
About Post Author