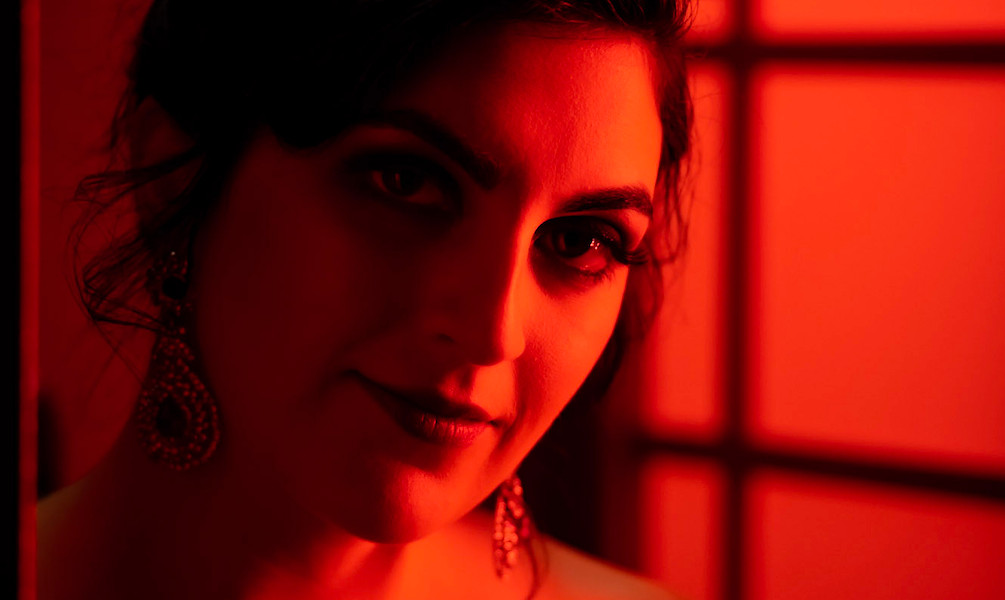 Pop singer-songwriter Carly Hanley recently unveiled her new single/music video, "Ooh La La," whose title reflects the seductive feel of the song, a sexy pop-romp about spontaneous attraction.
Born and raised in the John Hughes charm of the greater Chicagoland area, pop singer-songwriter Carly Hanley spent her childhood on stage. Ever a creative mind, she eventually pursued a career in film and video production, gathering the stories and sentiments that now inform her catchy hook-driven pop tunes, exploring friendship, romance, and self-realization.
With the release of her 2022 EP Radiant, Hanley took a step into the limelight, gifting the world with a vulnerable view of her inner life. Maintaining a steady stream of singles released since then, she's ramping up to the release of her first full-length album, Ruby, this fall.
Directed by Jason Knade, the music video for Hanley's "Ooh La La" sets the perfect scene for the sensuous song. Opening on our starlet elegantly preparing herself for a performance, we eventually follow her to an intimate club where she croons out her sultry tune. Spotting a charmer in the audience, she leaves the performance behind to pursue him.
CelebMix spoke with Carly Hanley to discover the inspiration for "Ooh La La" and her songwriting process.
What inspired your new single/music video, "Ooh La La?"
The song and video were heavily inspired by my grandmother, who was born in 1928 and as a woman in the late 1940s, she broke a lot of rules for a woman of that time. She was feminist and also loved being chased by men (men, plural!). I called her after my first heartbreak and her response was 'Honey, men are like street cars, you miss one you just catch the next.' 'Ooh La La' is intended to honor the women cut from that same cloth – independent, strong, and aware of who and what they wanted to pursue, despite social norms. This is the 'late-night version' of their story.
Walk us through your mindset as you entered the studio to record the song.
The team and I were determined to make every creative decision and vocal inflection a little extra, fancier, and spicier than we normally would. I wore sunglasses as I walked through the hallway of the studio building, while carrying my 7lb dog Lola and just kept hearing the horns from the track over and over again in my head. I remember giggling to myself and thinking… 'What's more 'Ooh La La' than this moment?'
Who directed the video and where was it shot?
It was directed by Jason Knade and shot in Chicago. The lounge scenes were shot at The Bassment. Jason is amazing and the entire shoot experience was so much fun. I think that comes through in the video too.
What do you want people to take away from the video?
I want people to find their inner self-confidence as well as a little extra excitement for their current relationship or the pursuit of a new adventure.
How did you get started in music?
From a young age, I remember the overwhelming desire to connect with people. I grew up in a small mountain town, Steamboat Springs, Colorado, and while others around me were finding their joy in the outdoors, I was embracing every opportunity to perform or to be tucked away writing music. My first solo performance was at age six, Avril Lavigne's 'Sk8er Boi,' to an audience of 400+ elementary schoolers, wearing ripped jeans and a hot pink t-shirt. I guess I was a little extra from the beginning.
Did your sound evolve naturally, or did you deliberately push it in a certain direction?
My sound evolved naturally. I think it comes from being raised with a deep interest in all genres. As the youngest of four, my older siblings introduced me to artists via mix CDs and my parents had a strong vinyl collection. Music was always playing in our home and as a result, my music reflects that. My lyrics come from the folky place in my heart, the music starts raw on the piano with a bluesy or country undertone, and I can't help but to modernize it with electronic sparks of energy to keep me and everyone else dancing.
How do you keep your sound fresh, and avoid falling into the trap of imitating either yourself or others?
I try to write in different spaces to bring new energy to my writing process for every track and avoid imitating myself. I regularly listen to multiple genres and appreciate different styles which seems to help me feel less limited to only pop/EDM patterns.
Are there any special recording techniques you use in the studio?
I ground my feet and imagine light flowing upwards as I take every breath. I love dancing during any instrumental moments and imagining myself on stage performing to a crowd that's LOVING every second. I've found that a few small mindset adjustments bring out the biggest and best vocals.
What inspires your writing? Do you draw inspiration from poems, music, or other media?
I see my life as individual moments on a timeline, where I try to be as present as possible. A simple phrase or feeling can initiate an entire song. I love taking long walks, observing every detail along the way and the memories those details prompt, followed by a candle-lit shower or bath. This puts me in an open state of mind to properly witness the inspiration and translate those thoughts into music and lyrics. I wrote 'Ooh La La' while taking a mid-day bath, which then we incorporated in the music video.
If I'm experiencing writer's block, I turn to a method I learned from Julia Cameron's book 'The Artist's Way' – I buy five magazines and in less than ten minutes I quickly rip out any word, photo, or headline, that I react to. I then glue everything on a poster board, and it unlocks a different part of my brain – when I go back to writing the song, it's always much more creatively productive.
What can you share about your writing process?
As I write, I try to open myself to whatever seems to flow through me. It really feels like I am working to connect to a listener and oftentimes I ask myself the question 'What do they need to hear?' I start at the piano – once I find the basic chord structure, I write the vocal melody, then lyrics. I try to live in a meditative, open-heart, and open-mind state of listening, observing, and gathering inspiration so that when I sit down to write, the messages flow with ease.
Which artists in your opinion are killing it right now?
Maggie Rogers and Zach Bryan are both CRUSHING IT and have paved their own lanes in the industry.
What can your fans look forward to over the next six months? Music videos? Live gigs?
I'm releasing the eight-song record 'Ruby' on October 6th, and live performances around Chicago and the Midwest throughout fall/winter!
Follow Carly Hanley Instagram | Twitter | TikTok | Spotify
About Post Author