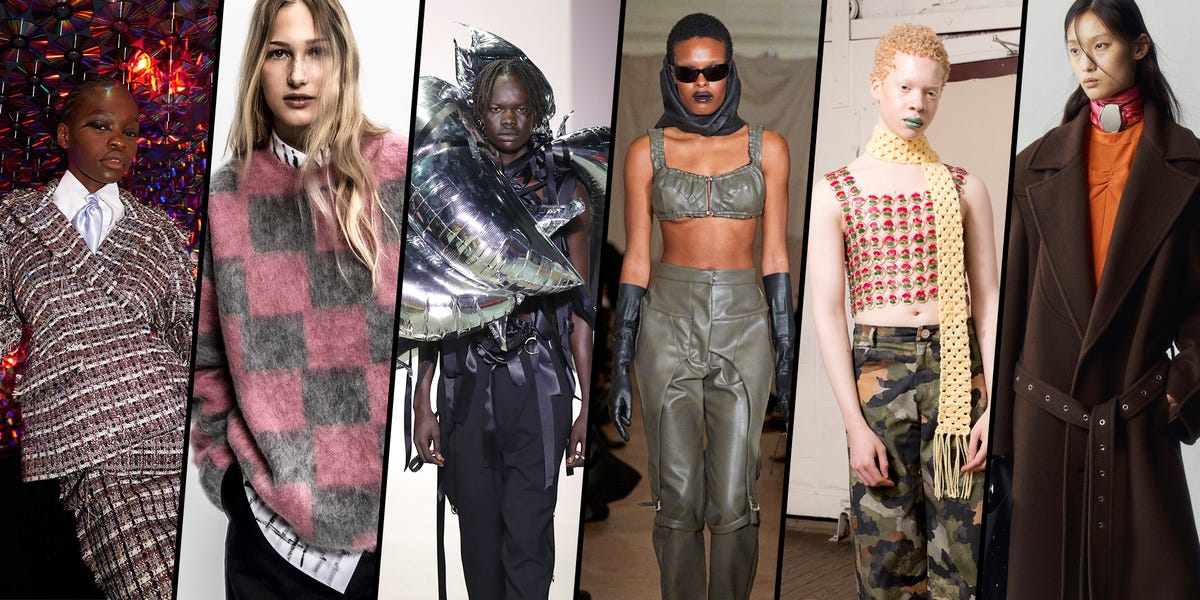 For the first time in almost two years, New York Fashion Week's fall-winter shows took place in person. The weather fluctuated from near-spring perfection to snowy and rainy, but that didn't deter crowds from gathering at shows, presentations, and parties. While the schedule may not have had all the big names of past seasons, this year was a chance for up-and-coming designers to show their stripes. The breadth of new talent in New York is a sure sign of a city picking itself up by its (designer) bootstraps and marching defiantly towards a fashionable future, one that is equal parts pragmatic as it is fantastical and crafty. Below, we've compiled the names and designers who ventured into new territory this season by all showing on the official CFDA calendar for the first time. Whether they've been around for a minute or are just now getting on their feet, these designers are the names to know from the week.
COMMISSION
The design trio of Huy Luong, Dylan Cao, and Jin Kay behind the deathly cool label Commission took cues from Americana and western dress to infuse their latest collection, "Fast Riders, Slow Dancers," with a dandy twist. The brand has been around since 2018, but this is their first in-person offering on the official calendar to see the collection up close. The brand fulfills the promise of the Wild West with star cutouts on hijacked t-shirts, perfect leather trousers and cargo denim, and the best coats and jackets we've seen this week. A rainbow of knits with cuts across the stomach and collarbone suggest a perfectly imperfect pullover, worn over seasons on the ranch (or in our case, making it through the subway turnstile). Every cut, fabric, proportion, and finish is carefully considered, and the collection is rounded out with brushed cashmere scarves, rough leather belts in studded silvers with exaggerated buckles, and the perfect leather shopper bags in the collection's uber-desirable hues. Lookbook styling by Jason Rider completes the vision with instantly wearable pieces recalling a Western with the chicest costume designer around. Simply put, these are the clothes you want to wear every day.
ZANKOV
While knitwear veteran designer Henry Zankov is no stranger to fashion, his brand Zankov is on the official NYFW schedule for the first time this season. Shown as a presentation at an intimate space in Soho, the newest collection marks an expansion into subtler color and pattern play compared to previous seasons. Zankov was in Milan over the summer and took direct inspiration from the city's subdued dusty pinks, browns, and unique geometric tiling and architecture. The resulting body of work includes mohair and brushed alpaca sweaters and zip-ups; decadent matching sweatpants; geometric double-knit cardigans; and cubist patterns on turtlenecks and long-sleeved dresses that demonstrate dazzling technique without falling into kitschy knitwear tropes. Zankov continues to create luxury artful pieces that stand the tests of trends and time, with divine quality and color play at the forefront of his work. Michael Avedon shot the coolly realized lookbook for the season, playing on the nonbinary nature of Zankov's work by styling looks on a wide spectrum of models.
SAINT SINTRA
Designer Sintra Martins showed her sophomore runway collection at the swanky Palace Bar on Saturday afternoon to a bustling crowd of fashion cognoscenti who are enraptured by her youthful spin on modern power dressing. The Sintra girlie roots her style in classic suiting and tailoring, not without a hint of chaos. A hem is undone here, a pant is slit there, skirts fall apart everywhere. Striped poplin and staunch oxford shirts are decorated with ginormous bows and to-the-chest collars, and a sparkling Shetland tweed skirt suit features roly poly-esque sleeves that suggest a hardened armor. Superb styling choices by Ron Hartleben took the fantasy to the next level, including mismatched stilettos stuffed at the ankle straps with miscellaneous receipts and invoices, suggesting a hurried woman running out of the dry cleaners and straight to her meeting (or soiree). The showstoppers were a crisp fitted oxford shirt with a deconstructed dusty pink calvary twill and tulle skirt that looked purposefully torn apart to reveal its decaying beauty, and a white cotton gown looped on itself ad infinitum, as if she were run through the paper shredder just before walking the show. It was invigorating to see a designer so fresh to the scene already expand their brand codes in such a daring way, including a foray into eveningwear. More designers on the schedule should take cues from Martins' passion for world-building and risk-taking.
IN THE BLK
On Sunday morning, In the Blk presented the collections of three emerging Black designers in conjunction with IMG, Color of Change, and UPS. The collections of jewelry designers Third Crown and Khiry, alongside the ready-to-wear collection of House of Aama, comprised a show that honored the triumphs and tribulations that comprise the Black narrative of America. First up was Third Crown, designed by couple Kofi and Kristen Essell, with their Edelsteen collection. Edelsteen means gemstone in Afrikaans, and the design duo hoped to channel the healing properties of gemstones into their architectural designs. Their stunning gold jewelry shone beautifully as models came out in simple black clothing, with interlocking gold belts and necklaces worn as tiaras providing a regal and subtle start to the show. Next up was House of Aama, the label designed by mother and daughter duo Rebecca Henry and Akua Shabaka, with their collection Heritage Bloodroot Collection – Into the Archives. Building off a 2017 collection and continuing their rich storytelling capabilities with clothing, the duo presented wearable dresses and coats that speak to the rich history of the Southern Creole and Deep South in a modernized context. Closing out the show was Khiry, a modern jewelry label designed by Jameel Mohammed, with their latest offering, Fights Reveal Futilities. Custom-made garments out of recycled t-shirts, bomber jackets, and knits took on new life with the dynamic cuffs, pins, and pendants that almost looked like thorns from a silver rose bush, trudging through battles to make a better future. The presentation included models swathed in metallic balloons, culminating in a bone-chilling finale where the models ripped them off, screaming for release and freedom. It was as thought-provoking as it was beautiful and aesthetically gorgeous, creating beauty out of trauma and pain, allowing the single rose to push through the ground on which struggles took place.
DAUPHINETTE
Olivia Cheng of Dauphinette knew the fashion crowd was hungry for delectable fashion over the weekend, as guests lined up the stairs to enter Lee's on Canal, an intimate private dining room, to feast on her latest offering, "Tasting Menu." Showing for the first time on the official NYFW calendar, Cheng brought small groups of showgoers in for an up-close view to her intricate creations styled on the most diverse and earnest casting of the week. The collection has instantly recognizable pieces for those familiar with Dauphinette's sustainably made Chainmaille bags and ready-to-wear, crafted out of preserved botanicals (strawberries, daisies). These pieces meshed well with baggy camo pants, jeans, and sturdier sweaters and outerwear where prints and drawings add the perfect quirk. A woman in the show had a long black coat adorned with buttons, sewn into geometric block patterns and a large "NEW YORK" across the chest, with, naturally, a miniature swan on her head. This odd character is just one of many dreamt up by the self-proclaimed "Happiest Brand in the World."
ELENA VELEZ
The designer Elena Velez hails from Milwaukee, Wisconsin, and has quickly become known for her brutal, industrial designs that have been called "aggressively delicate." Her first official runway show on the calendar was entitled "YR 01⁠— Maidenhood & Its Labors" and took on the difficult narratives of a woman emerging from the ashes (or in Velez's case, the gravel where she pulled her dress from). Ship sails from Lake Michigan and laminated military canvas are reworked into daringly skin-baring dresses and separates that in equal parts embrace and reject the female form. Velez's muted color palette allows her to explore hyper-specific cuts, seams, and slits, utilizing raw materials to create an earthen woman, entirely unglamorous and yet still somehow womanly in its emphasis on the décolletage and form. The clothes at first glance seem unwearable, but maybe that's exactly the point being made. Is the woman comfortable in a dress constructed from repurposed parachutes? Is she leaning into her womanly nature or shying away from it? These gorgeous tensions provided for the most scintillating runway of the week, one in which questions were proposed and oftentimes left for the viewer to decide. It's not an understatement to say it's the show everyone will be thinking about for weeks to come.
This content is created and maintained by a third party, and imported onto this page to help users provide their email addresses. You may be able to find more information about this and similar content at piano.io
About Post Author