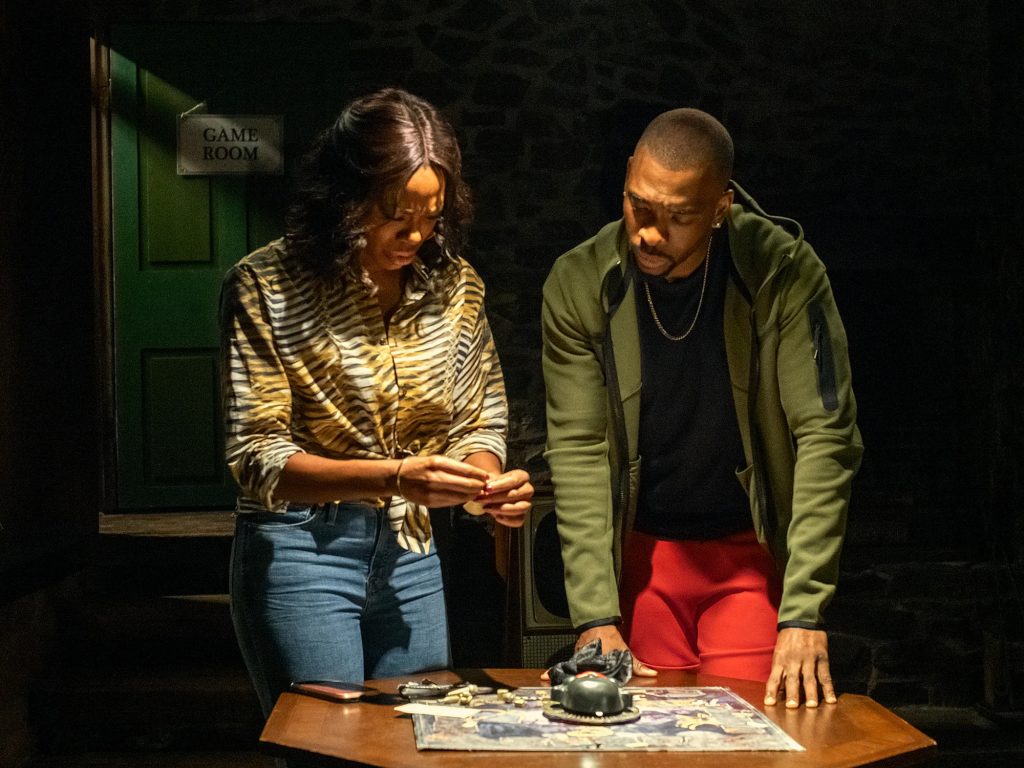 A group of friends head for a cabin in the woods only to face off with a killer in this fresh horror spoof, from the writer of Girls Trip.
Even in a turbulent industry horror movies continue to draw audiences. Perhaps more than any other type of film, part of the horror viewing experience is enjoying (and at times eye-rolling) the inevitable tropes that power any slasher flick. The fake-out jump scares, the creepy house with a mysterious past; the list goes on. One cliché that lives on in infamy is that the token black character will usually be the first to die. It's an indication of their continued expendability to both the plot and the audience as a whole; as sure as there will be a final girl, there will be a black character who dies before we've even gotten to know them. It's this premise that is gleefully skewered in the horror comedy, The Blackening, directed by Tim Story (Ride Along) and written by Tracy Oliver (Girls Trip) and Emmy-nominated Dewayne Perkins.
A group of black friends reunite for a Juneteenth weekend celebration at a cabin in the woods and stumble across a game called The Blackening, featuring a racist Sambo character, who demands, a la Jigsaw, that the friends take part in a game to prove their blackness and survive a twisted killer in their midst. What follows is a fun romp that's not always the most sophisticated in its delivery, but the jokes come thick, fast and just sharp enough to grab the laughs throughout.
The black experience of living with a heightened sense of danger often translates into bold assertions of common sense as we witness countless white characters stumble into certain death through poor decisions in the name of curiosity. Oliver and Perkins skilfully exploit this understanding as the friends fighting against this self-awareness deliver a ripe source of amusement, paired well with debates around the markers of blackness (do you know how many seasons of The Fresh Prince featured 'dark-skinned' Aunt Viv?); all making for a buzzy watch that brings the viewer right into the action.
With the arrival of The Blackening, and its centering of the black perspective through horror, it's hard not to acknowledge Get Out, Jordan Peele's 2017 modern horror masterpiece. The film undoubtedly enriched the genre and allowed more Black voices to become a part of horror than ever before, yet subsequent attempts in both film and television have been of varying quality. Remi Weekes' thrilling 2020 horror His House provided another solid reimagining, but Amazon's 2021 series Them; dealt more in trauma than anything transformative. With its satirical silliness, The Blackening lands favourably on this ever-expanding scale. In fact, The Blackening feels more reminiscent of Scary Movie, the 00s horror comedy franchise penned by Marlon and Shawn Wayans, although Oliver and Perkins shed much of the hyper low-brow, often offensive signature humour of the period, while retaining the slapstick spirit and retooling with social commentary that feels fresh.
Bolstered by an entertaining cast, including Insecure's Yvonne Orji, SNL's Jay Pharoh, and Perkins himself as the standout, The Blackening turns one of horror's most problematic tropes on its head and gets justice for all those black characters we never got to know.
Little White Lies is committed to championing great movies and the talented people who make them.
By becoming a member you can support our independent journalism and receive exclusive essays, prints, weekly film recommendations and more.
Published 22 Aug 2023
Anticipation.
Another Black perspective within the horror genre. Let's see how this one turns out…
Enjoyment.
Laugh-out-loud silliness best seen with a crowd.
In Retrospect.
A fun, welcome take on the horror-comedy genre that's best enjoyed without too much over-analysis.
About Post Author