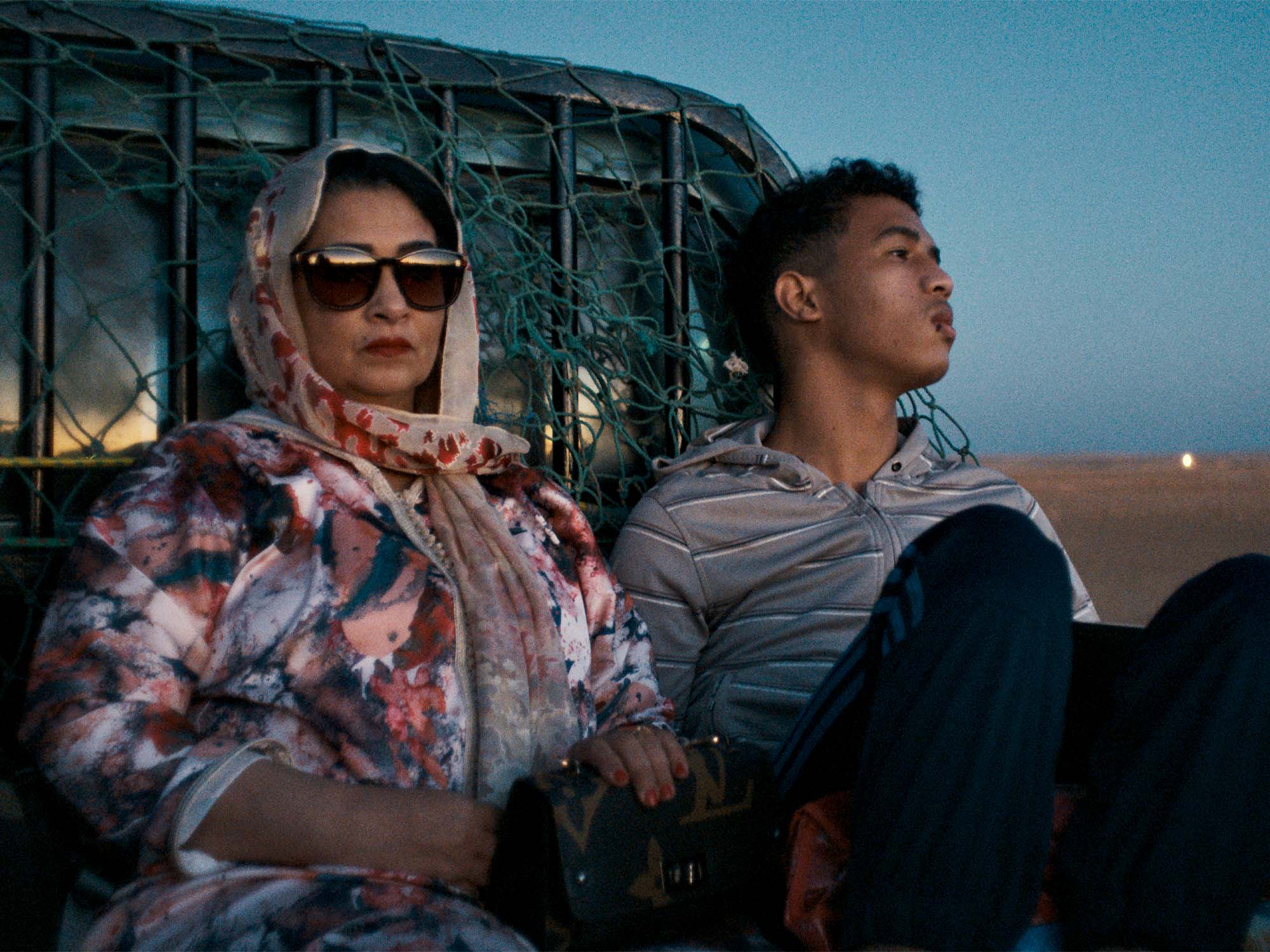 Fyzal Boulifa's second feature bears witness to the the dysfunctional bond between a mother-son duo as they drift through urban Morocco.
In Vincent Sherman's 1950 noir The Damned Don't Cry, Joan Crawford plays a housewife trapped in a loveless marriage, when the tragic death of her young son becomes an impetus for her to claw her way out of poverty and into wealth as she becomes the glamorous wife of a gangster. British-Moroccan filmmaker Fyzal Boulifa's second feature borrows the title of this Crawford vehicle and retains its melodrama, only to portray an otherwise entirely distinct, compassionately-crafted survival tale.
The film explores the depths of a complicated, dysfunctional family relationship between middle-aged single mother Fatima-Zahra (Aicha Tebbae) and her sullen son, Selim (Abdellah El Hajjouji), as they drift through urban Morocco, moving from one place to the next and relying on the kindness of strangers to safeguard employment and a roof over their head.
Fatima-Zahra keeps the fact that she does sex work a secret, and when she returns to their tiny Casablanca flat with a black eye and all her jewellery stolen, she decides to seek accommodation at her elderly father's home. The duo's arrival at the village is met with contempt from both family and neighbours, and when Selim overhears that his mother became pregnant with him as a result of being raped, he begins to harbour deep resentments towards her.
The shadow of sexual abuse taunts Fatima-Zahra everywhere. It's neither misery nor violence that drives them out of each place, but the scandal, rejection and victim-blaming that follow her as she struggles to get to grips with how to break this cycle. But she's determined to purge herself of past scandals, seek marital responsibility and give her son another new beginning.
Desperate times lead Selim to head down a path similar to his mother's. A job in a small luxury riad owned by wealthy Frenchman hotelier Sébastien (Antoine Reinartz), leads to the exchange of sexual favours. Even as Boulifa subtly depicts a developing affection between the two men, he doesn't shy away from confronting the murkier, more cruel ramifications at the heart of such a fraught relationship.
All this violence, both latent and overt, makes for a tough watch, and in trying to deal with so many societal matters all at once – poverty, religion, homophobia, misogyny, colonialism – along with a few awkward tonal shifts along the way, the film struggles to shift into perspective.
Caroline Champetier's impressive cinematography grounds the picture in a much more affecting context, and Boulifa's unflinching approach is laudable nonetheless – his characters' suffering is never fetishised. As our focus shifts from mother to son, both non-professional leads Tebbae and Hajjouji emerge as exceptional performers capable of deep complexity and nuance, in roles that could otherwise be embodied a little too conventionally.
Little White Lies is committed to championing great movies and the talented people who make them.
By becoming a member you can support our independent journalism and receive exclusive essays, prints, weekly film recommendations and more.
Published 3 Jul 2023
Anticipation.
Boulifa's 2019 debut Lynn + Lucy was a decent-sized hit.
Enjoyment.
Gay panic bar scene set to Tarkan's 'Kiss Kiss'? Sounds familiar…
In Retrospect.
A deeply sympathetic dual portrait powered by arresting performances.
About Post Author