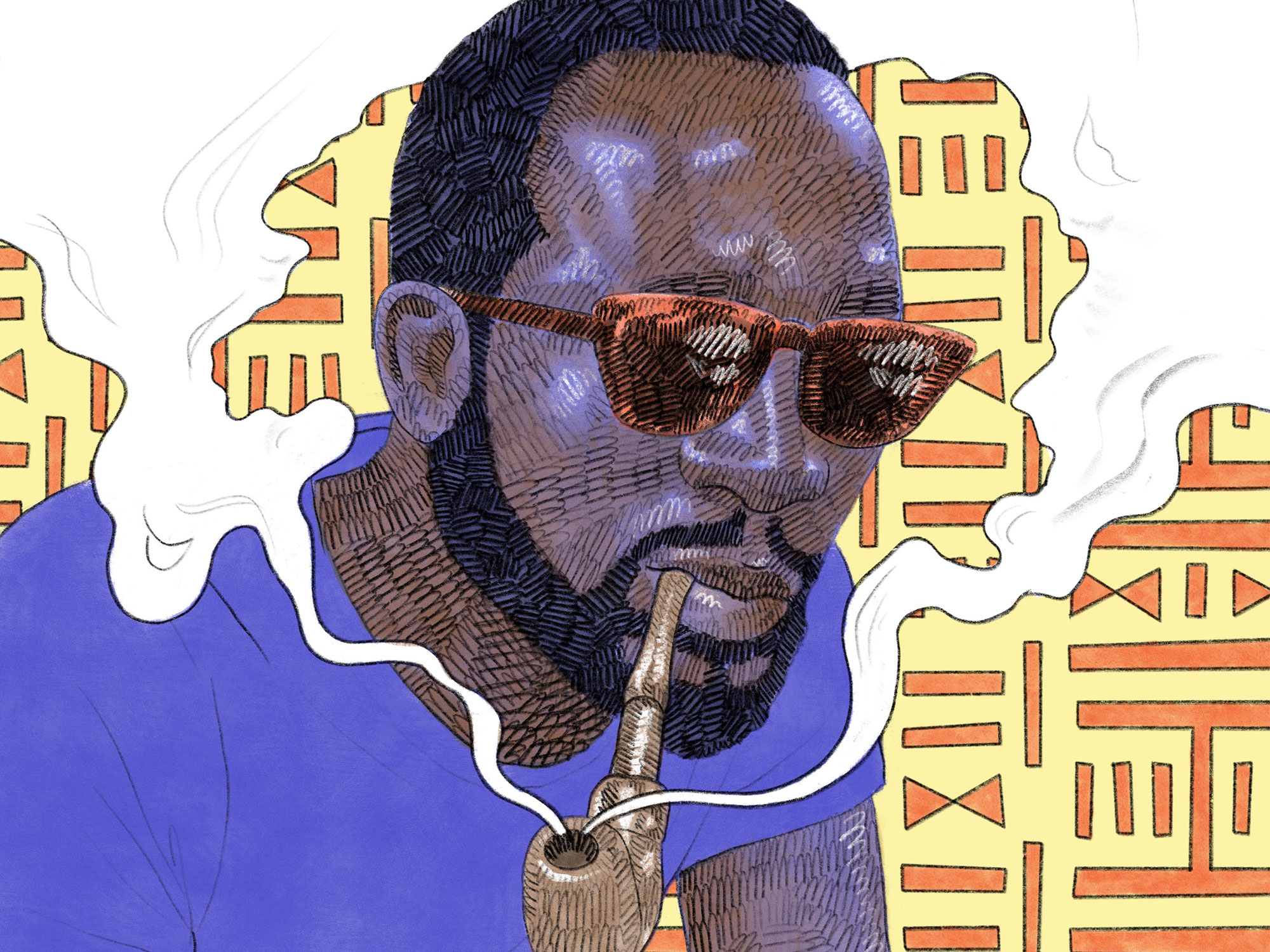 A new restoration of his long out-of-print 1968 film Mandabi offers cause to celebrate the late Senegalese maverick.
Mandabi, the 1968 film by Ousmane Sembène, was the first to be made in colour in Senegal. It was supported by the National Centre for Cinema (CNC) in France, as the director was greatly admired by the French Minister of Cultural affairs, André Malraux. Despite enjoying such high-profile backing, many of the Sembène's films would be banned or censored in France due to the blunt way in which they dealt with the scourge of colonialism in Africa. There was a view that, by focussing on slums, bureaucracy and failures of state, his work actively undermined Senegal's potential for nation building.
Yet for all his artistry and enduring legacy as a filmmaker, Sembène considered his films to be tools of his political agenda. As his biographer, documentarian and friend Dr Samba Gadjigo puts it, "He is not a filmmaker who uses politics, he is a politician who uses filmmaking."
Filmmaking was not his first medium, having first started out in the 1950s as a celebrated novelist, but the Senegalese population was, at that time, over 80 per cent illiterate and it became apparent that novels had limited scope to affect widespread change. "He is first a militant and an activist. He tried literature but it didn't work. He picketed against the war in Algeria in the '50s. He picketed against the Korean War in 1953. He picketed against the war in Indo-China in 1954. But he realised that the most enduring way to describe the African struggle for selfhood and self-determination is through art."
Mandabi was not art for art's sake, but a way for Sembène to show that the legacy of colonialism in Senegal was bureaucracy and capitalism – a space where men are defined, corrupted and destroyed by their proximity to money. The film begins with a postman delivering a money order to a simple house on the outskirts of Dakar. He is met by the two wives of Ibrahima Djieng. They are unable to process this potential good news. "Please!" they beg the postman. "Do not dash our hopes!" Word spreads fast about Djieng's good fortune and both well- and ill-intentioned people appear by his side to "help" him cash the money order. But rather than setting up a simple conflict of tradition versus modernity, the film presents Djieng's world as a more complicated one.
There are issues of gender hierarchies, of class, of community that are further compounded by the nightmarish legacy of colonialism. The whole film revolves around money, yet very little of it appears on screen, highlighting its ephemeral nature and stressing that its value and power is little more than a social construct. The money order comes to symbolise not so much the freedom of prosperity, but the crippling weight of debt.
"Senegal: it's often held up as a model democracy," explains Professor David Murphy, author of 'Sembène: Imagining Alternatives in Film & Fiction'. "It has never suffered a coup d'état but, in the late 1960s, it was effectively a one-party state, because the ruling socialist party had co-opted the opposition into government. So, there is this vision of society where, yeah, we've got problems, but we need to keep telling positive stories about things getting better. And Sembène is just not for that, he felt that's not the way you bring about effective change."
Mandabi takes place eight years after Senegal's independence, where Djieng and millions like him have become foreigners in their own country. "He has progressively lost his cultural bearings and finds himself in the wilderness." Gadjigo explains. Djieng has only a basic grasp of French but is expected to speak, read and write the language. He is required to have an ID card, a birth certificate and all these European creations that are forced upon the unsuspecting African working class.
It's also worth noting that this was the first film to be made in the native African tongue of Wolof. The significance of this was huge as it meant the film could speak directly to working-class Africans, as Wolof was not just spoken in Senegal but in Gambia and Mauritania too. As Gadjigo puts it, "To make a film in the native language, no subtitles, just talking to them directly in the metaphors they know, it was like putting them in front of a mirror."
Mandabi eventually returns us to the postman who comes to represent a glimmer of hope for the future. Where Djieng and his wives despair, he reminds us that it is only through honesty and integrity that they can build a better future for Senegal. "The ending of the film is the most progressive that Sembène made. He projects the possibility of change. Change that doesn't come from the top to the bottom, but comes from the bottom and goes up," says Gadjigo, "And for Sembène that's when the real thinking starts."
Mandabi is released in UK cinemas on 11 June via StudioCanal.
Published 8 Jun 2021