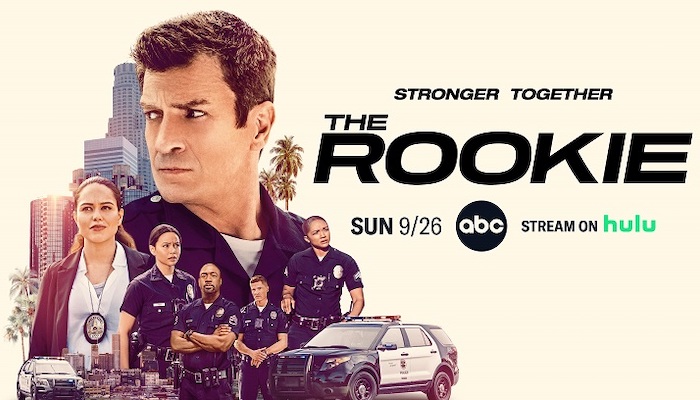 The Rookie Fire Fight Trailer
ABC's The Rookie: Season 4, Episode 7: Fire Fight TV show trailer has been released.
Advertisement


Cast and crew
The Rookie stars Nathan Fillion, Alyssa Diaz, Richard T. Jones, Titus Makin Jr., Mercedes Mason, Melissa O'Neil, Afton Williamson, Mekia Cox, Shawn Ashmore, and Eric Winter.
Plot Synopsis
The Rookie's plot synopsis: "The series follows John Nolan, a forty-five-year-old newly divorced man from Pennsylvania, former owner of a construction company and father of a son in college, who, after inadvertently helping police officers during a bank robbery, moves to Los Angeles to pursue a new career as a police officer in the Los Angeles Police Department (LAPD). After graduating from the Police Academy as the oldest rookie on the force, Nolan must navigate the dangerous, unpredictable nature of his job and is determined to make it in his new career despite the challenges."
Watch The Rookie Fire Fight Trailer. Leave your thoughts on it below in the comments section. Readers seeking to support this type of content can visit our Patreon Page and become one of FilmBook's patrons. Readers seeking more The Rookie articles can visit our The Rookie Page, our ABC Page, and our ABC Twitter Page, and our ABC Facebook Page. Readers seeking more TV show trailers can visit our TV Show Trailer Page, our TV Show Trailer Twitter Page, and our TV Show Trailer Facebook Page.
The Rookie: Season 4, Episode 7: Fire Fight will air on ABC on November 14, 2021. Want up-to-the-minute notification? FilmBook staff members publish articles by Email, Twitter, Facebook, Instagram, Tumblr, Pinterest, Reddit, and Flipboard.
The Rookie Fire Fight Trailer