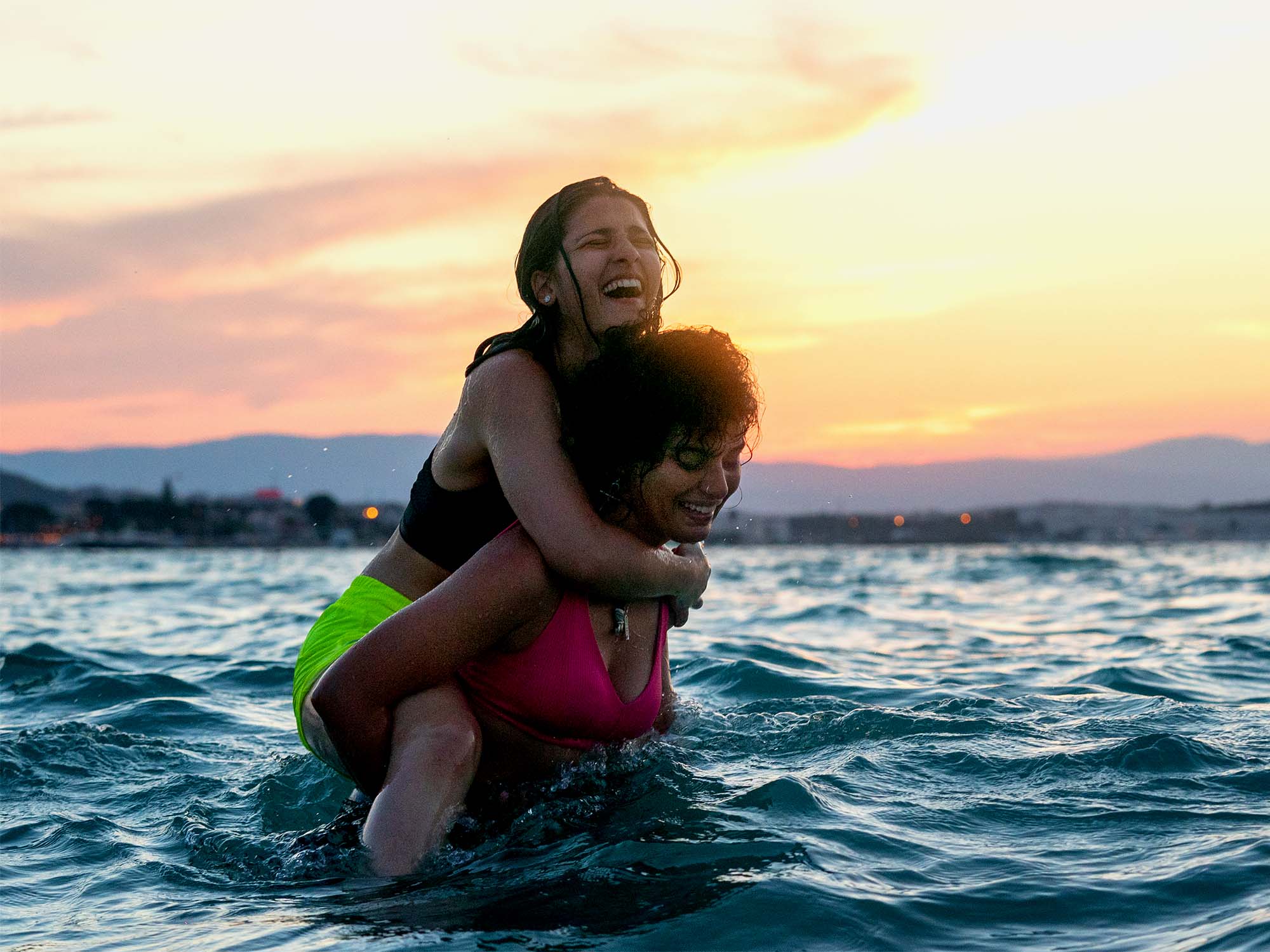 The astonishing saga of Syrian refugee-turned-Olympic swimmer Yusra Mardini is effectively presented by writer/director Sally El Hosaini.
The young life of competitive swimmer Yusra Mardini feels custom wrapped for some canny director to waltz in and produce a glossy, inspirational film about her unlikely triumph over extreme adversity. Growing up as a regular teen on the outskirts of Damascus, Syria in 2011, she is coached to swim by her father whose own dreams of the big time faltered, and so he parlays his energy into helping his daughter to succeed where he did not.
Yusra has enough of the right stuff to make people believe she has a chance to make it into the big leagues, but then the bombs begin to fall and one quite literally blocks her path to greatness. For this dream to expand and thrive, a new life is required, one outside of war-torn Syria and, unfortunately, without her beloved parents.
Writer/director Sally El Hosaini made significant waves in 2012 with her forceful realist drama My Brother the Devil. In her belated follow-up, The Swimmers, she expands both scale and scope, and the results are largely positive if somewhat generic. Her film takes on a triptych structure: before the war; the harrowing boat crossing to Europe; and finally, the long and winding road to the 2016 Rio Olympics, where Mardini swam butterfly for a team made up of refugees and won her heat.
One issue with here is there's so much plot, alongside a persistent desire to frame and underscore every one of this journey's universal resonances, that it's hard not to feel bogged down in ideas and details. It also leaves little time for actor Nathalie Issa to give any real shading to her characterisation of the pluckily irrepressible Yusra. She's joined on her expedition by sister Sara (Manal Issa), also a swimmer, but more of a canny operator who becomes a keeper to both Yusra and the hordes of disenfranchised and disenchanted souls who are fleeing to what they hope will be greener pastures.
While the story is occasionally laden and episodic, El Hosaini excels when it comes to the various set pieces that pepper the narrative. A treacherous dinghy crossing from the Turkish coast to the island of Lesbos is rendered as a nightmarish struggle for survival, as migrants pack the raft to breaking point and blindly trust the racketeers who have taken their money in return for purported freedom. Panic sets in as the motor stalls. Frantic dread comes as night draws in. It's an intense stand-alone sequence that occurs relatively early on, and the film struggles to recapture its emotional power.
For the final hour, we're in Berlin as Yusra manages to convince a kindly local swimming coach named Sven (Matthias Schweighöfer) to take her under his wing. The film then settles into a standard-issue sports underdog tale, which is dutifully effective in celebrating its heroine's arc and all that she has overcome to make it onto the world's stage.
The Swimmers makes for affecting, if undemanding drama. It's also earnest to a tee in the way it works double-time to cultivate a reaction from its audience. Both Issas deliver fine, likeable performances that never really tip over into something more messy and interesting – they become walking, talking beacons for a bigger, more important message about the refugee experience, and while that message is very much worthwhile, it dilutes the interpersonal aspects of this amazing saga.
Little White Lies is committed to championing great movies and the talented people who make them.
By becoming a member you can support our independent journalism and receive exclusive essays, prints, monthly film recommendations and more.
Published 25 Nov 2022
Anticipation.
Opened the 2022 Toronto Film Festival, but the response was polite if a little hushed.
Enjoyment.
It's an impressive film, though one which plays all its story beats with a very straight bat.
In Retrospect.
Yusra Mardini's story is one worth telling through film – and this does a solid job of that.
About Post Author