A grieving man battling an eating disorder attempts to reconnect with his daughter in Darren Aronofsky's drama.
Based on Samuel D Hunter's play of the same name, The Whale depicts the final week in the life of a morbidly obese man who has developed an eating disorder in the years following his boyfriend's suicide. Charlie (Brendan Fraser) is confined to his apartment, subsisting on takeout and groceries delivered to him by his friend Liz (Hong Chau) while teaching online English classes. He keeps his laptop camera off, worried his students will be disgusted by his appearance.
Realising his eating disorder is going to kill him, Charlie attempts to reconnect with his estranged daughter Ellie (Sadie Sink) who is still furious at him for leaving her and her mother Mary (Samantha Morton) years ago. Meanwhile, meek missionary Thomas (Ty Simpkins) comes across Charlie and begins visiting daily in an attempt to save his eternal soul.
But Charlie is resigned to his fate. The past eight years have been a form of slow suicide. He punishes himself with food. He eats until he vomits and then eats some more. Fraser – in his first major film role for almost a decade – imbues Charlie with palpable warmth and optimism from underneath the layers of make-up, prosthetics and video effects. He captures Charlie's deep-rooted sadness and his desire to love and be loved, that others have a hard time seeing as they can't get past his appearance. It's a pleasure to see Fraser given a role he can put his heart into, and his nuanced performance saves The Whale from turning into a ghoulish spectacle or a very artfully shot episode of TLC's exploitative reality show 'My 600lb Life'.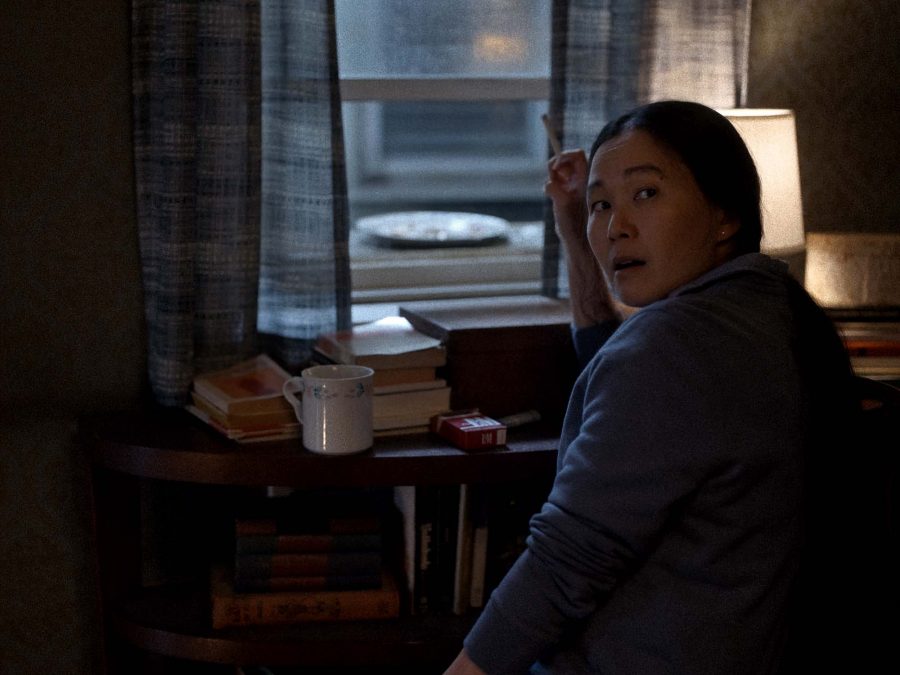 It's a story about a flawed father trying to do right by his daughter before it's too late (comparisons to Aronofksy's The Wrestler are inevitable) and Sink is a perfect foil to Fraser, in a tricky role as an antagonistic teen brat. She captures the anger and sadness that comes from parental abandonment, as well as an underlying cleverness that is obscured by meanness.
Aronofsky isn't a particularly empathetic filmmaker (at times his work feels outright cruel) and there's an austerity to the staging of The Whale in the darkness of Charlie's apartment and the harsh strings of Rob Simonsen's score, but these pair well with the softness and occasional wry humour of Fraser's performance, to create a film that – while not without flaws – reflects tenderly on shame, guilt and the human impulse to care and be cared for.
Recurring imagery evokes the ocean, whether in a passage of an essay about 'Moby Dick', brief flashbacks to a trip the family took to the beach when Ellie was younger, or the rain which pours outside Charlie's apartment. The water suggests an imminent cleansing, and fits into Aronofsky's well-established interest in biblical allusion. Who doesn't long for acceptance and peace, particularly after enduring great pain?
Little White Lies is committed to championing great movies and the talented people who make them.
By becoming a member you can support our independent journalism and receive exclusive essays, prints, monthly film recommendations and more.
Published 31 Jan 2023
Anticipation.
Excited to see Fraser back in action.
Enjoyment.
Complex and imperfect, much like life itself.
In Retrospect.
A worthy comeback for King Brendan.
About Post Author