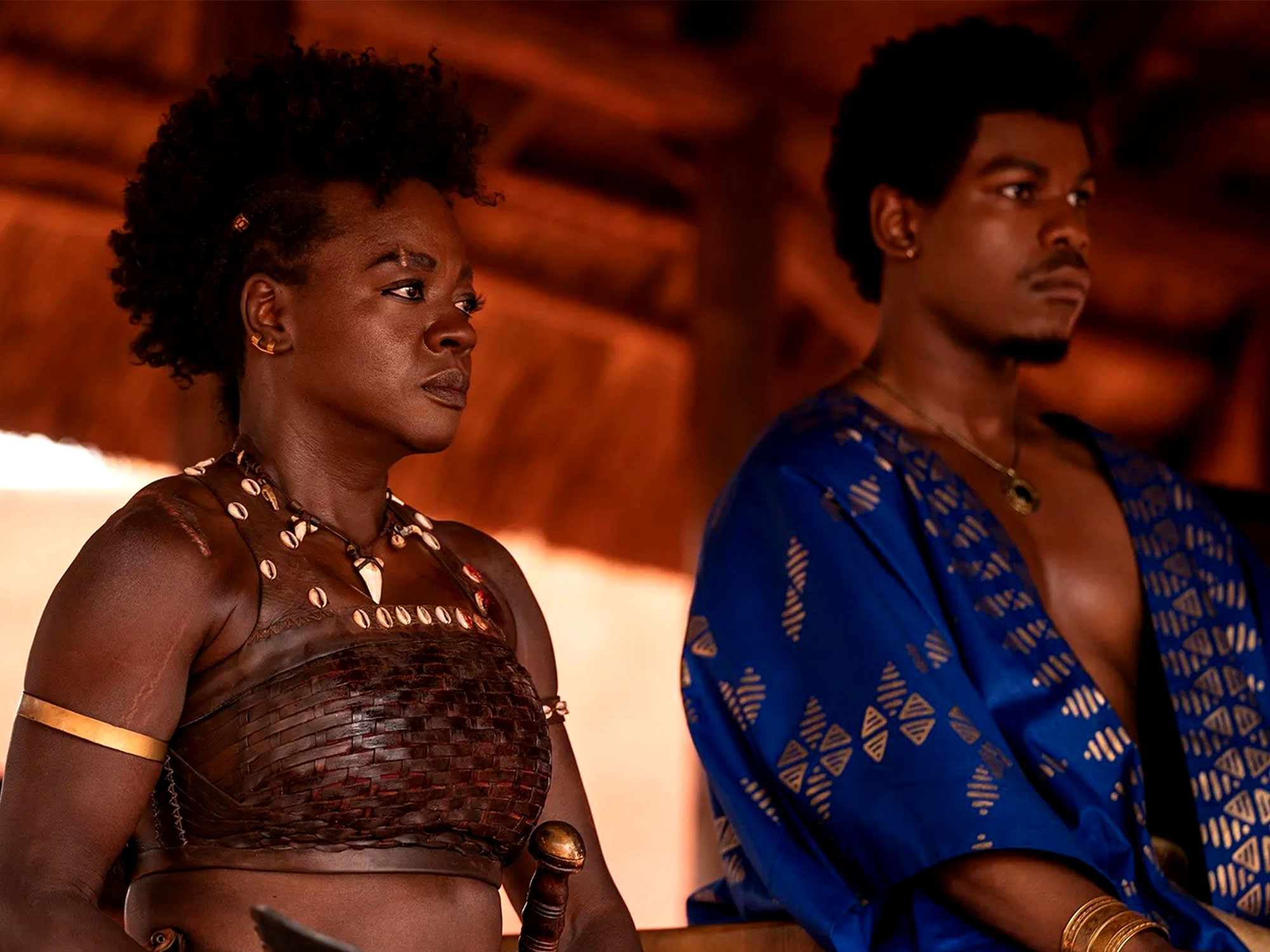 Gina Prince-Bythewood delivers her masterpiece in this quietly radical action epic with a stunning lead turn from Viola Davis.
With The Woman King, director Gina Prince-Bythewood masterfully helms the epic woman led action film she has been building toward over her 20-year career. It focuses on an all-woman warrior unit called the Agojie, tasked with defending the Kingdom of Dahomey (modern day Benin) in 1823, during a pivotal moment in the countries relationship with the slave trade.
The Agojie are led by army general Nanisca, played by a battle weary and (dare we say it?) career-best Viola Davis. The ensemble includes: Thuso Mbedu as the rambunctious rookie Nawi, who catches Nanisca's eye after being abandoned by her father for refusing to marry an abusive man twice her age; the fiercely impressive Lashana Lynch who, in her meatiest role yet as Izogie, is tasked with training the recruits, providing comic relief and kicking ass; and Sheila Atim as Nanisca's right hand woman and sole confidant, Amenza.
Of course, there is also John Boyega as the stately, robe-swishing King, a role befitting his natural regality, charm and good humour – it's from Boyega that we get the bulk of exposition, while it's the actresses who are out kicking ass.
No doubt the gruelling workout schedule played a role in getting these actresses to deliver such raw performances. In recent years, Davis has perhaps teetered into Streep territory with her choice of roles, where we might spend every minute she's on screen waiting for her to do The Thing, waiting for the moment she reaches a 10 and monologues herself into awards conversations.
As enjoyable as that is, her performance here is one that is so raw it's as if she herself has been turned inside out. Instead of waiting for that moment she bubbles over, we are drawn deeper into the simmer. It's a moment when Nanisca's memories betray her that offer up the film's most poignant moment.
Mbedu, who is radiant with curiosity and defiance in equal measure, matches Davis in their scenes together, and it is the relationship between these characters that gives drive to some of the knottier plot points. The typically Hollywood dynamic of the rookie and the pro is refreshed, explored here through the distinct traumas of abandonment and captivity.
This film has already been compared to Braveheart, Gladiator and even Top Gun in terms of scale and the call back to spectacular Hollywood action epics of yore that offer a deep sense of character and outstanding lead performances. While this is true – and accurate shorthand for the exact kind of crowd pleaser this film is – it leaves little room to reflect on just how this is the culmination of decades of work by Prince-Bythewood, as well as leaving space to criticise just how late Hollywood is (once again) to centring the stories of Black women.
Beyond Prince-Bythewood's first mega action epic, The Old Guard, her 2008 film The Secret Life of Bees is a clear indicator of the kind of stories she has been insatiably trying to tell. Stories of Black women existing in a safe, protected space with one another, buoyed by one another and preparing one another for the turmoil of the outside world.
To learn about the existence of The Woman King – a Hollywood film about an all female army who eventually come to take down slavers – might inspire some scepticism. The machinations of Hollywood do not allow for the brutal truth about the slave trade to be told, as the brutal truth is not one that many want to see let alone accept.
It's here where many Black filmmakers find themselves in a bind. There is a feeling of scarcity when it comes to Black storytelling, that anything historical means there is no space for creative licence, that anything not beaming with positivity is a detriment to the entire community, because 'What if this is our only chance?' It is an unbearably heavy cross to bear.
The Woman King is unafraid to sprawl out and dig in as it explore histories untold, while delicious action sequences of near-exclusively hand-to-hand combat unfurl in front of us. It is a celebration of a filmmaker and a cast at the peak of their powers. And while in tone and style it's perhaps impossible to not reminisce of an earlier type of Hollywood spectacle, The Woman King is indisputably the first of its kind.
Little White Lies is committed to championing great movies and the talented people who make them.
By becoming a member you can support our independent journalism and receive exclusive essays, prints, monthly film recommendations and more.
Published 7 Oct 2022
Anticipation.
We love Viola Davis and director Gina Prince-Bythewood
Enjoyment.
So much fun – eyes wide and glued to the screen the entire time.
In Retrospect.
A great time at the movies. A rare cinematic event.
About Post Author