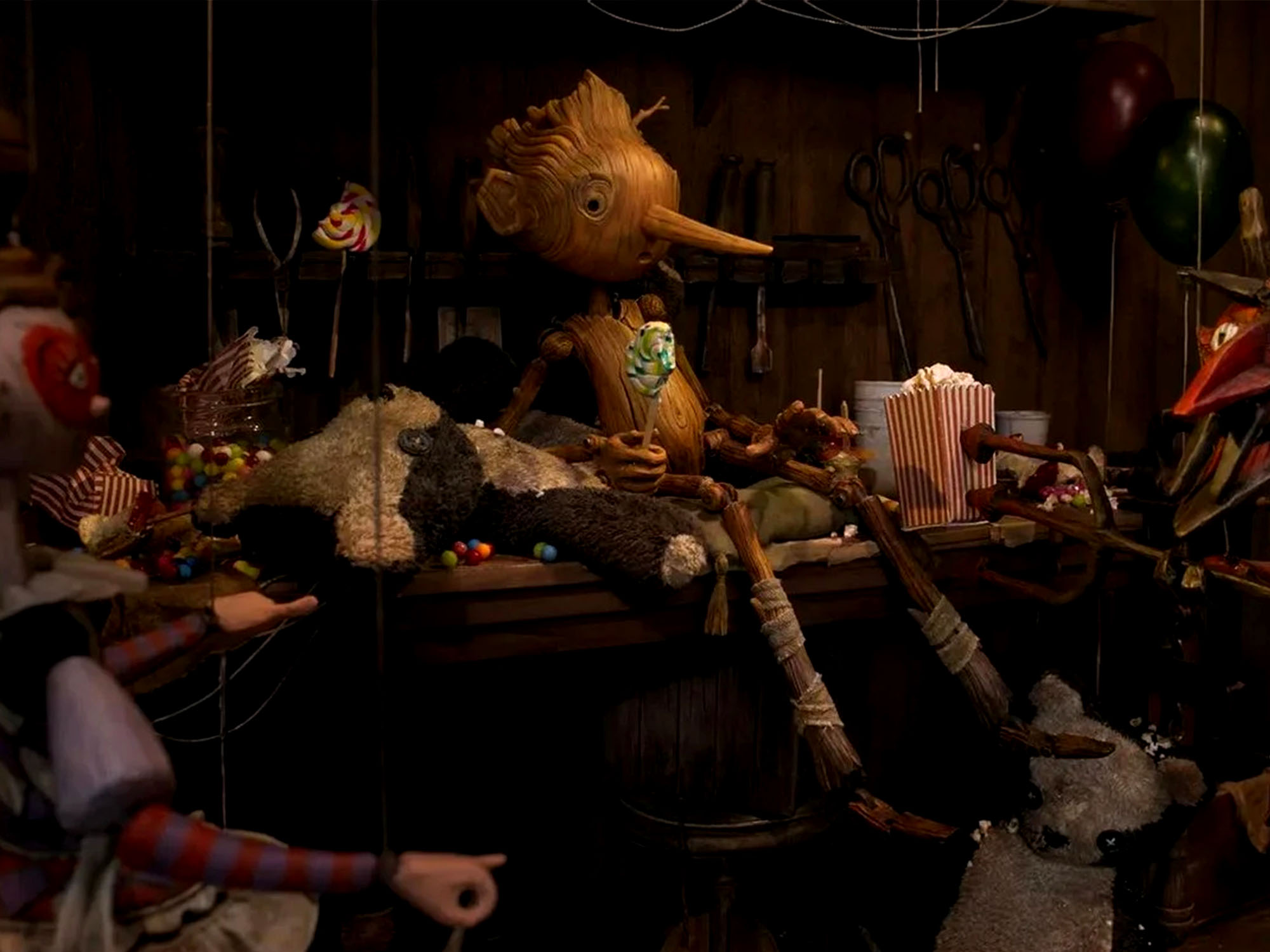 No rest for the wicked, and there aren't many directors as committed to the cause of wickedness as Guillermo del Toro. The genre-cinema veteran gave us his fiendish remake of Nightmare Alley mere months ago, and he's already preparing to roll out another feature that brings a revisionist bent to a story known even more widely, now with a turn toward the macabre.
This morning, the first trailer for his long-awaited adaptation of Pinocchio appeared online and offered a peek at a crunchier-looking, more off-center alternative to the showtune-strewn Disney version seen far and wide. According to the given synopsis, this wooden boy come to life isn't the guileless dork we recall from childhood, but rather a nasty-tempered troublemaker who enjoys playing mean tricks on those unfortunate enough to cross his path.
With the voiceover of the mustachioed Sebastian J. Cricket (no relation to Jiminy, though he is voiced by Ewan McGregor) as his mouthpiece, del Toro teases the main themes of the film, including love, loss, and "imperfect fathers and imperfect sons." Though the footage we do glimpse, which mostly falls along the lines of peppy-looking adventure, seems to bear little relation to the teases about fascism in 1930s Italy that del Toro was said to have incorporated.
We do, however, get a nice introduction to the menagerie of colorful characters who'll meet Pinocchio as friends or foes, including the kindly puppeteer Geppetto (voiced by David Bradley), the nefarious Count Volpe (voiced by Christoph Waltz), and the Fairy with the Turquoise Hair (Tilda Swinton). And yet not a single glimpse of Sprezzatura the Monkey, voiced by Cate Blanchett, the real star of the show here.
Though the real real star of the show would have to be the animation itself, the main draw of a labor-intensive stop-motion project such as this one. The hand-carved aesthetic is a canny idea, made text with the shot of Geppetto whittling his marionette son, with a more subdued color palette that could very well hint at the overall downbeat vibe largely obscured by the clip below.
Pinocchio will come to Netflix worldwide in December.
Published 27 Jul 2022