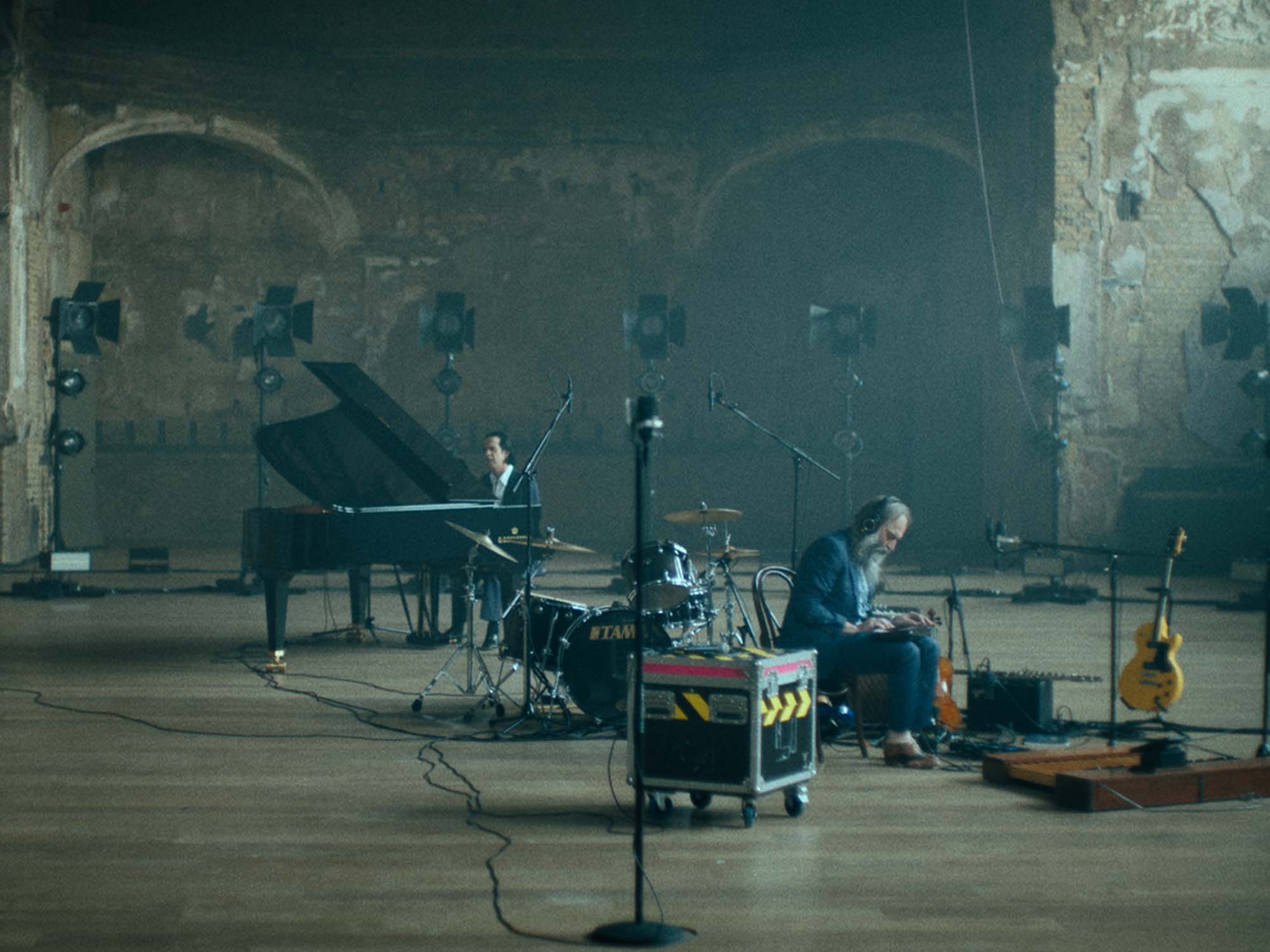 Nick Cave and Warren Ellis perform an intimate yet expansive session at the Battersea Arts Centre. The results are mesmerising.
"My response to a crisis has always been to create", Nick Cave wrote on his fan correspondence site, the Red Hand Files, soon after the outbreak of the coronavirus pandemic. Upon the release of his latest studio album, Carnage, he went on to announce:
"Five years have passed since Andrew made One More Time With Feeling. Much has changed. But some things haven't. The world still turns, ever perilous, but containing its many joys. Music remains a balm. Friendships endure. This letter is fractured. I am so excited to perform."
Andrew Dominik's 2016 3D monochrome documentary delineated a heartbreaking portrait of a grief-stricken Nick Cave as he grappled with the tragic death of his teenage son Arthur. His latest, This Much I Know to be True, unfolds as a concert film shot under covid restrictions, when live music was off the menu. It documents the fruits of collaboration cultivated between Cave and his longtime creative partner and Bad Seeds bandmate, Warren Ellis, as their last two studio albums are brought to life: Ghosteen (The Bad Seeds) and Cave and Ellis' first solo collaboration outside of their prolific film scores, Carnage.
With Carnage, Cave and Ellis brought a refined intensity to the brooding minimalism of its predecessor. It's a record that's concerned with vivid fiction, cinematic language, texture and tumult rather than the formal essence of verse and chorus. Dominik aptly creates a deeply emotional atmosphere to capture this magnetism, while he also lays bare the filmmaking process. Nothing feels fabricated.
The intimate yet grand setting of an empty hall in Battersea Arts Centre allows each note to reverberate perfectly, bringing forward crisp sonic textures unobstructed by the hubbub of applause. Exquisitely timed, drifting strobes that tonally complement the synth-heavy tracks intensify the razor-sharp performances, and it's a star turn for Robbie Ryan's camera as it elegantly swoops and glides through the space. The stage design is impeccable. Dollies circle the track, engaging in a collectively choreographed dance with the crew, singers and string quartet.
Each shot is framed with tenderness, and the rapport between Cave, Ellis and Dominik is a palpable testament to the depth of their trust for one another. This, paired with the fact that This Much I Know to be True is rooted in performance and not much context, should suffice in justifying such a sympathetic depiction of Cave. Sometimes the content of his songs and his politics can prove antagonistic, yet as an an artist, he is clearly at the peak of his powers.
Little White Lies is committed to championing great movies and the talented people who make them.
By becoming a member you can support our independent journalism and receive exclusive essays, prints, monthly film recommendations and more.
Published 5 May 2022
Anticipation.
Another one?
Enjoyment.
Marianne Faithfull is a legend.
In Retrospect.
A vividly emotional yet meandering 105-minute Nick Cave track.