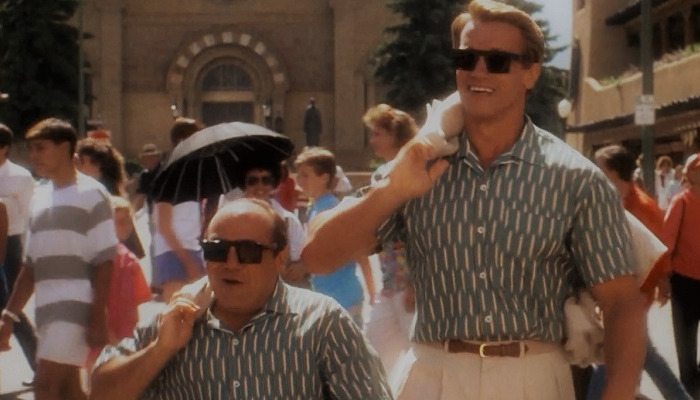 Late 1980's Comedy Twins Gets Sequel
Arnold Schwarzenegger and Danny DeVito will be reuniting for Triplets, a sequel to their 1988 film, Twins.
Just when you thought Arnold Schwarzenegger was lying when he said, "I'll be back," news has arisen that the action hero will be making a sequel to his beloved late 1980's comedy, Twins. Not only are director Ivan Reitman and co-star Danny DeVito returning but a new addition to the cast, Tracy Morgan, will be on board as well.
Advertisement

When the $15 million budgeted Twins came out in theaters back in 1988, it earned a nice $111 million domestically and a solid "A-" CinemaScore grade despite less than stellar reviews from the critics. It was a huge hit for Universal Pictures about unlikely "twins" played by Schwarzenegger and DeVito. The film proved to be a crowd-pleaser that has won many more fans throughout the years and a sequel seems like a fun idea. Tracy Morgan will be playing a third, long-lost brother.
Triplets is set to start shooting in Boston in January. According to sources, Eddie Murphy and/or Schwarzenegger brainstormed the idea for the new picture. When Murphy became busy with other projects, director Reitman enlisted Morgan to play the other sibling.
The basic idea of Triplets will revolve around a secret, third baby (played as an adult by Morgan) who was born alongside Schwarzenegger and DeVito's characters. The three brothers will soon reunite and Reitman believes the three will have great chemistry together on screen. Reitman hopes the film can be made on a reasonable budget and believes Boston is the perfect location for filming, according to Deadline.
Schwarzenegger and DeVito had re-teamed for 1994's Junior to less than stellar results. It only made $36 million at the domestic box-office with an OK "B+" CinemaScore. That film was about a pregnant male scientist played by Schwarzenegger. However, the passage of time makes one yearn to see these two stars together in a comedy again and Triplets seems like a decent project to showcase these two versatile actors in comic roles. Morgan is the icing on the cake.
Kelly Preston, who passed away last year, was the female lead in Twins and her absence will be felt in Triplets but the new project sounds like a blast and one that will definitely be a must-see for comedy fans. All eyes are on this project considering the comic geniuses attached to it, action sensation Schwarzenegger included. Reitman, DeVito and Morgan have always been comedy legends in their own right whether in front of the camera (DeVito and Morgan) or behind it (DeVito and Reitman).
Leave your thoughts on Triplets being revealed as the sequel to Twins below in the comments section. Readers seeking to support this type of content can visit our Patreon Page and become one of FilmBook's patrons. Readers seeking more movie news can visit our Movie News Page, our Movie News Twitter Page, and our Movie News Facebook Page. Want up-to-the-minute notifications? FilmBook staff members publish articles by Email, Twitter, Facebook, Instagram, Tumblr, Pinterest, and Flipboard. This news was brought to our attention by Deadline.
Related Articles
FilmBook's Newsletter
Subscribe to FilmBook's Daily Newsletter for the latest news!