By reputation, Casablanca is the greatest American romance ever put to celluloid. There may be films more avant-garde or technically accomplished, but no film is so compulsively rewatched or intensely adored. US Senator Elizabeth Warren returns to Casablanca with her husband every New Year's Eve, and Donald Trump even made a (losing) bid to acquire the famed upright piano that is featured in the Paris flashbacks. Casablanca has been so talked about, quoted, and repurposed to ricochet across popular culture that Gen Z's first encounter might easily be parodies on Saturday Night Live or reruns of The Simpsons.
The problem is that Casablanca's familiar quotability seems to have immunized it from the critical ebb and flow that has washed over landmarks such as Citizen Kane or The Godfather. Eighty years of romantic nostalgia has left it politically defanged, but in a time of resurgent authoritarian nationalism, it's worth excavating its message: a full-throated attack on the America First isolationism that had paralyzed the United States under the looming threat of fascism.
At the age of 27, recent Cornell graduate and aspiring playwright Murray Bartlett took the summer of 1938 to travel to Vienna in the immediate aftermath of the Anschluss, where he witnessed the antisemitic Nuremberg Laws come into force in the wake of Nazi annexation. Fleeing Jewish refugees snaked from Marseilles to Morocco, on to Lisbon, then across the Atlantic on the final leg to America—a trek that eventually got scrupulously reported in the newsreel opening film sequence of Casablanca.
Burnett personally smuggled his Jewish family's property south to Nice, where he stumbled on a smokey nightclub overlooking the Mediterranean that catered to refugees and military officials. A Black pianist from Chicago relieved the tense mood with a repertoire of popular jazz standards. Back in the United States in 1940, Burnett collaborated with writer Joan Alison to rework his observations into "Everybody Comes to Rick's," an unproduced three-act play.
Just five days after the Pearl Harbor attacks, Warner Bros. producer Hal Willis discovered the play on his desk and snatched it up at the then-unheard price of $20,000. He assigned sibling team Julius and Philip Epstein to mold it into a screenplay, with Michael Curtiz slated to direct. Taken together, these formative circumstances drive home the point that romance may adorn the film, but its backbone is the plight of refugees displaced by political violence.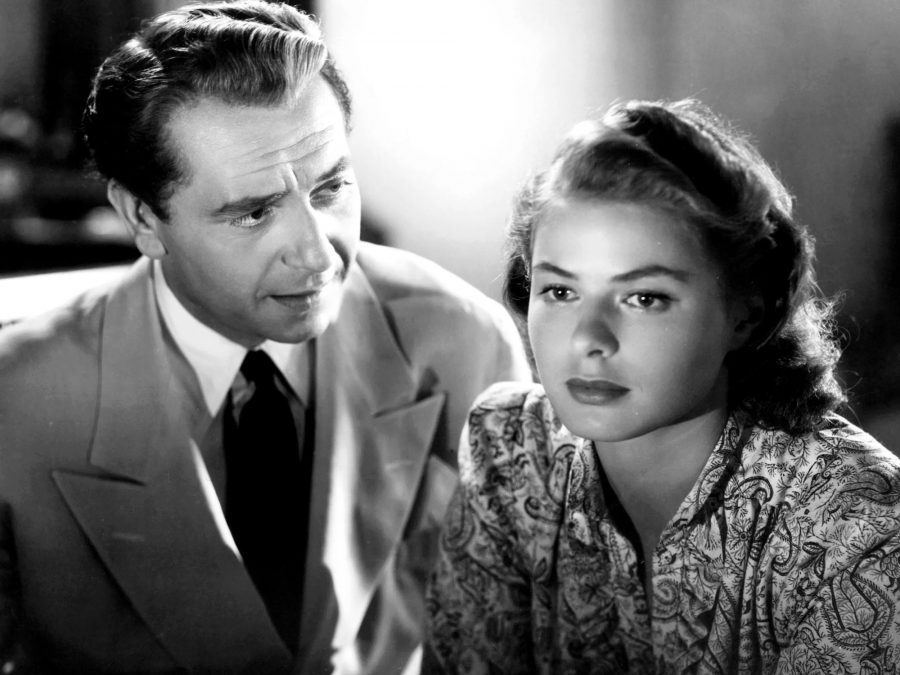 Set in the French-controlled port city of Morocco just beyond the authority of the Vichy puppet government, the story centers on a romantic love triangle between immaculately tailored, chain-smoking saloon keeper Rick (Humphrey Bogart), his enigmatic ex-lover Ilsa (Ingrid Bergman), and her heroic if stolid husband, Victor Laszlo (Paul Henreid), an escapee of a Nazi concentration camp and leader of the Czechoslovak resistance. Rick faces a dilemma. He's acquired two letters of transit that could whisk the Laszlos beyond the reach of Gestapo officer, Major Strasser (Conrad Veidt), but doing so would irrevocably sunder his romance with Ilsa.
In its wartime era, Casablanca was a dissident plea to the American public to alter course. In the early stages of WWII, a Gallup poll revealed an astonishing 90% of Americans favored isolationism to avoid the fast-ballooning conflict across the Atlantic. But Warner Bros. execs regarded America First isolationism as a stunning betrayal of humanitarian obligations and a greenlight to fascism. Brothers Harry and Jack Warner threw their support behind the Anti-Nazi League and began churning out anti-isolationist motion pictures, such as Confessions of a Nazi Spy. The blowback was so powerful that Senator Gerald Nye of North Dakota, a leader of the America First organization, convened a hearing to upbraid them with accusations of warmongering. Under a barrage of questioning, Harry replied indignantly, "I am ready to give myself and all of my personal resources to aid in the defeat of the Nazi menace to the American people."
Harry kept true to his word in Casablanca. Rick moves from burnt-out cynicism and political isolationism—"I stick my neck out for nobody"—to shooting down a Nazi officer and earning Victor's gratitude for abandoning his misanthropic neutrality: "Welcome back to the fight. This time, I know our side will win."
Casablanca is unmoored from the America First ethos in other ways. Just as Rick has rebuffed Victor's pleas for the letters of transit, German soldiers burst into song with "Die Wacht am Rhein," taunting refugees from the German war machine. In response, Rick nods approval to the band to launch into a stirring rendition of "La Marseillaise."
The French National Anthem acts as the film's patriotic ballast. It congeals refugees who have fled from dozens of countries and warzones behind a common cultural touchstone, silencing the bellicose nationalism of the Germans but also answering head-on the America First position that moral obligations are neatly trammeled by national borders. Authoritarian regimes do not stop at national boundaries, and, as the chorus of voices affirms, neither does the determination to throw off the yoke of tyranny.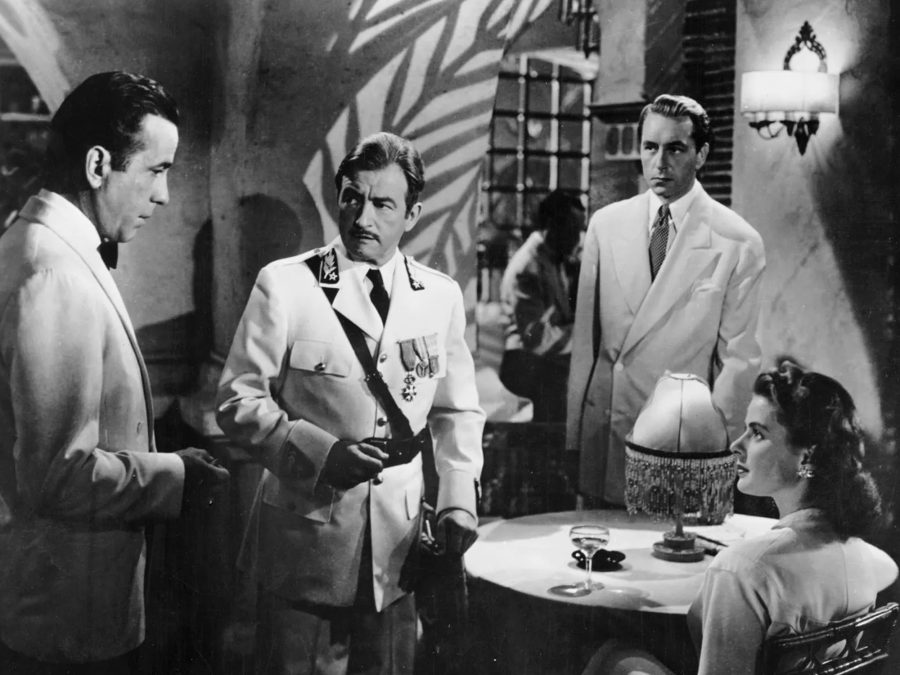 The cast literally represented the transnational coalition of refugees that were pleading against America First isolationism. Nearly all of the roughly 75 actors who appeared on screen were refugees or immigrants, hailing from more than 30 nations, and of the 14 who earned screen credit, only three were born in the US: Humphrey Bogart, Dooley Wilson, and Joy Page. Ingrid Bergman was Swedish, Paul Henreid was Austro-Hungarian; Peter Lorne, portraying Ugarte, was a German-speaking émigré from Slovakia; and most interestingly, Conrad Veidt, portraying Nazi villain Major Strasser, was a German refugee who'd been detained by and then fled from the Third Reich after it rose to power in 1933. The composition of the cast was itself evidence that the carnage being visited on Europe was washing up on American shores and could not be ignored or contained.
Casablanca would later become congenial to future generations of Americans in part because it rejected a key feature of the America First sensibility: its deep-seated racism. The intimacy depicted between a Black pianist and a white saloon keeper who knock back drinks together and bind their fates in friendship would have been nearly unthinkable in early 1940s America. Tom Doherty, a cultural historian at Brandeis University, notes that Casablanca doubles as both a geographical and imaginative space: "Casablanca cajoled Americans to realize their higher aspirations, not just by confronting fascism abroad but by imagining a community that had toppled racial hierarchies."
From our vantage point in 2022, Casablanca's message seems not to be breaking through. Nativist isolationism has rippled across the globe over the last decade. Prime Minister Narendra Modi rose to power on a wave of Hindu nationalism scapegoating Muslims. The Swedish right has muscled its way into parliament by pinning blame on immigrants. Hungary's Viktor Orbán has seized on the Great Replacement conspiracy theory to consolidate domestic support. Meanwhile, back in the United States, Minority Leader Kevin McCarthy has announced he'll choke resources to Ukraine to hoard them at home, thereby aligning foreign policy with Steve Bannon's far-right vision of America First.
Noah Isenberg, a professor at the University of Texas at Austin and author of We'll Always Have Casablanca, told me that the aspirational spirit of Casablanca is a counterblast to divisive xenophobic politics.
"Donald Trump ripped at the fabric of democracy—capitalizing on a global pandemic to sow fear and division, stoking contempt for Syrian refugees, and launching a coup to cling to power when he lost the election," Isenberg said. "He truly represents the inverse of everything Casablanca stands for—namely, subordinating personal interests for the greater good. But Casablanca reminds us that no matter how dispirited we've become by the corruption around us, we always have the power to rise to the occasion and exert ourselves in defense of freedom and equality."
Casablanca, it turns out, has all the trappings of a schmaltzy romance, but its clarion call to become our best selves at times of grave political peril has never been timelier.
Published 28 Nov 2022
About Post Author