Adam Driver and Greta Gerwig reunite as a couple grappling with their fear of death in Noah Baumbach's adaptation of Don DeLillo's novel.
Noah Baumbach is – at least at first glance – a curious choice to adapt the work of American author Don DeLillo for the screen, as his stylised, complex and idiosyncratic prose seems vastly different from the realist dialogue that the filmmaker tends to favour in his portraits of contemporary American life. But the overarching theme of White Noise – an anxiety around the looming spectre of death – is familiar territory for for the writer/director, as is the psyche of the film's middle-aged, middle-class white protagonist. This is his most ambitious project in both scale and provenance.
This does seem apparent in the film's opening sequence. After Don Cheadle's cheerful academic Murray Siskind delivers a monologue on the optimistic overtones of the car crash in American cinema, we cut to preeminent Hitler Studies professor Jack Gladney (Adam Driver) and his wife Babette (Greta Gerwig) in their kitchen, surrounded by a gaggle of precocious children. They move through the space with a choreographed fluidity; they speak not so much like people, but like characters in a play.
There is something artificial and odd about the tableaux, with its densely saturated colours and Gerwig's frizzy bouffant hair. But this jarring sensation doesn't last, much in the way a euphoric high after a bout of unbridled consumerism is only ever a fleeting reprieve from the impending heat death of the universe. The rhythms of the film soon settle, and it becomes an offbeat, but not unwelcome, change of pace for Baumbach.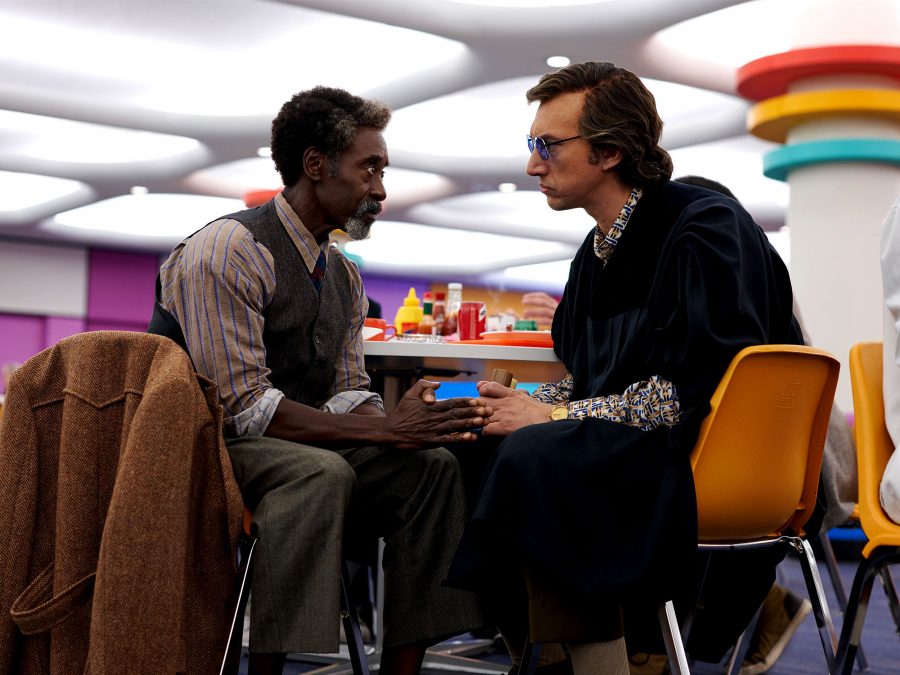 He retains the much of the anxious, wry spirit of DeLillo's prose, but trims down many of the side plots and asides which give 'White Noise' such character. Purists might be offended, but it works in the favour of keeping pace. Shot during the summer of 2021, it seems inevitable that comparisons will be drawn between the events of this film and the Covid-19 pandemic: onlookers theorise about the causes and effects of the health crisis; masks are worn; Jack and Babette find vastly different ways through their anxieties around death. But the strength of the source material (and indeed Baumbach's execution) make White Noise one of the better examples of 'pandemic art' to emerge from this perilous time in history.
There's sympathy here for how fucked up everything is. Baumbach doesn't pretend that he has the answers for what we do now, as we emerge blinking and yawning into a world where we can't afford to heat our homes. Sometimes death seems like a better option – a bypassing of the bullshit, so to speak. But there are brief glimmers of a world worth sticking around for: the tenderness of love; the pleasures of parenthood. White Noise is a story about cutting through the static and learning to settle in silence.
Little White Lies is committed to championing great movies and the talented people who make them.
By becoming a member you can support our independent journalism and receive exclusive essays, prints, monthly film recommendations and more.
Published 1 Dec 2022
Anticipation.
Unsure about the wigs here… There are lots and lots of wigs.
Enjoyment.
Wig fears unfounded. A charmingly gloomy film.
In Retrospect.
Best closing credits sequence of the year.
About Post Author