Love, transformation and mysticism play key roles in Moonstruck, and at the heart of this offbeat romantic comedy released 35 years ago is Loretta Castorini (Cher), navigating Italian-American family dynamics, a marriage proposal, an unexpected turn of events, and metamorphosis—while the biggest celestial body closest to Earth affects the characters during a particularly brighter phase. "Look! It's Cosmo's moon!" exclaims Raymond (Louis Guss) to his wife, Rita (Julie Bovasso), as he peers out their bedroom window in Brooklyn Heights. It's a moment where most characters in the film marvel at its mesmerizing effect: a spectacular orb of temporary beauty and natural light.
As for Cher, it was as though the stars aligned for her role in Moonstruck. She had Come Back to the Five and Dime, Jimmy Dean, Jimmy Dean, Silkwood and Mask under her belt,as well as music and TV experience. This journey led her to Moonstruck, which was one of her critically acclaimed comebacks. In her acceptance speech for Best Actress in 1988 for Moonstruck, Cher humbly said, "And I don't think this means that I am somebody, but I guess I'm on my way."
When we first meet Loretta in the opening credits – juxtaposed with behind-the-scenes hustle and bustle at New York City's Metropolitan Opera – she's living life in a triangular routine. Home, work at her bookkeeping job, eat, sleep, repeat. In a similar fashion, her nondescript, neutral color-palette wardrobe in grays and blacks and pulled-back hair with loose side wisps give off a relatable, down-to-earth energy. Loretta does what she needs to do,and lives complacently with her parents as a widow.
Discussions of Loretta's marital status bring up the question if she's cursed and the leitmotif of being jinxed runs through Moonstruck's arteries: not just in terms of Loretta, but also in other people she encounters. Loretta brings her new fiancé, Johnny (Danny Aiello) to the airport and wishes him safe travels to Sicily: Johnny is travelling to see his sick mother lying on her deathbed. While staring at the airplane waiting for its departure, Loretta engages in small talk with an older woman emitting a sinister vibe. We learn the old woman's sister is also a passenger on the plane to Sicily – the sister stole the old woman's man many years ago – so she casts an evil spell on it, hoping it will explode (she isn't successful).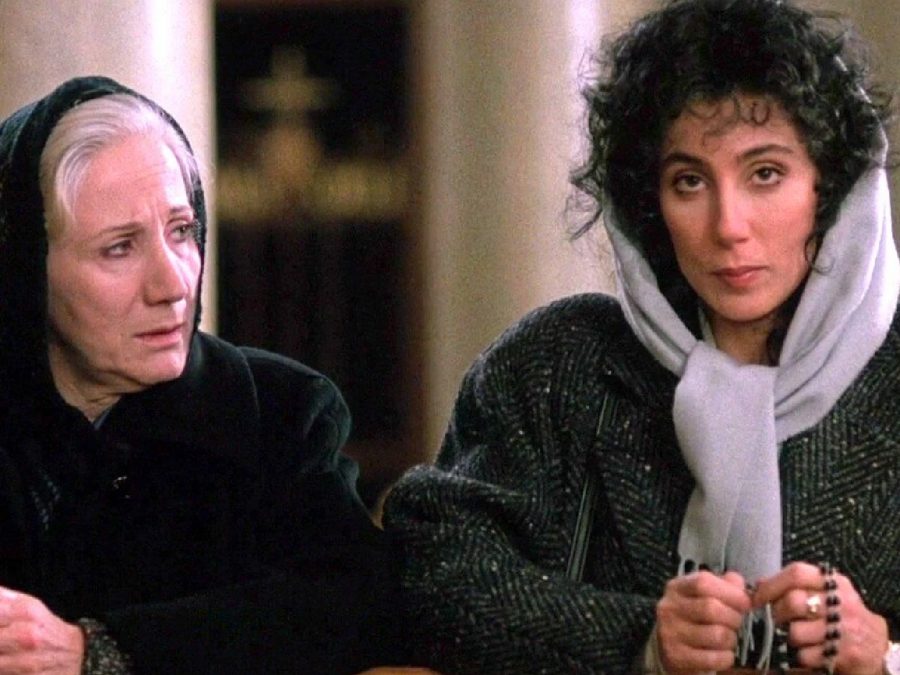 But as luck would have it, and with Johnny away, here is where Loretta starts to eclipse other characters ( thus earning Cher her Oscar). Loretta promises Johnny that she'll reach out to his estranged brother, Ronny (Nicolas Cage), who remains bitter over losing his left hand in a bakery accident – he blames Johnny for the loss and his subsequent string of bad luck. After a few conversations, Loretta and Ronny's chemistry is as palpable as his thick hair and sweat on his body: He works as a baker for his family's business and gives off a semi-feral, lupine feel. Their intense exchanges eventually segue into seemingly raw, unfiltered words (captured by screenwriter John Patrick Shanley):
"Loretta, I love you. Not like they told you love is, and I didn't know this either, but love don't make things nice—it ruins everything. It breaks your heart. It makes things a mess. We aren't here to make things perfect. The snowflakes are perfect. The stars are perfect. Not us. Not us! We are here to ruin ourselves and to break our hearts and love the wrong people and die. The storybooks are bullshit," wails Ronny.
This monologue encapsulates the core of Moonstruck: an imperfect course of love. It evolves, takes many forms, and follows a nonlinear path. Cher through Loretta beautifully portrays this sentiment and in parallel, Ronny, Rose (a stellar Olympia Dukakis) and Cosmo (Vincent Gardenia) confront a similar reckoning. Though all principal actors shine brightly in Moonstruck, Cher's portrayal of Loretta commands the spotlight. When Ronny says he loves Loretta, she takes the road less traveled in regards to courtship: she slaps him twice, telling him to "snap out of it!" Loretta's powerful light comes with a whopping punch.
However much later, Loretta eventually comes around to softening up. She succumbs to the reality that she has also fallen for Ronny, admitting everything to her mother, Rose. "Aw Ma, I love him awful," she says with a sigh of relief. Loretta is still beaming but with a gentle glow.
What leads to this confession of love is one memorable makeover montage in cinema history: Loretta gives into Ronny's insistence and agrees to meet him at the Metropolitan Opera. To get ready for the big night, she buys a strapless, form-fitting dress that wows—topped off with a shawl—and finished with lipstick red heels. Loretta also makes a trip to the salon where a hairdresser dyes her tresses to darken the strands of gray: she wears her mane styled down with incredible volume. This looks like a preview of the Cher we will come to know later in real life as the "Goddess of Pop," but for now in Moonstruck, she's divine in a different way. At this point, we've forgotten about the unlucky, mousey Loretta we knew from earlier scenes—except for the feisty attitude. Waiting for Loretta in the foyer of the opera house, Ronny immediately notices the stark change in Loretta's appearance, saying to her, "You look beautiful." Loretta responds matter of factly with a hint of happiness "I had it done."
Following their night at the opera, Loretta's famous "walk of shame" becomes a solo waltz in the same crimson heels, basking in the afterglow of sex. Loretta's aura matches Cosmo's moon from the night before: Her euphoria jumps off the screen and is forever captured on the film poster with her arms in the air, one knee bent, and her head tilted to the side. That's cosmic amore – ad she's why audiences have been lovestruck all these years.
Published 18 Dec 2022
About Post Author