So many films that are considered essential queer cinema do not have happy endings. Brokeback Mountain, the love story between two cowboys in Wyoming based on a novella by Annie Proulx, certainly does not see Jack Twist and Ennis Del Mar live happily ever after. The tragic real-life murder of transgender man Brandon Teena is shown in graphic detail in Kimberly Peirce's Boys Don't Cry, while Abdellatif Kechiche's adaptation of Jul Maroh's graphic novel Blue is the Warmest Colour has been criticised for depicting a sapphic romance through the lens of the male gaze.
The threat of discovery and overt homophobia is a constant presence throughout countless queer releases, with LGBTQ+ characters presented as having tragic stories to be learned from, rather than love stories in their own right. The messy parts of queer relationships are left out in favour of harrowing social commentary. It is only recently that studios have started handing the reins over to LGBTQ+ creators, as seen in Alice Oseman's wholesome Netflix series Heartstopper and the upcoming sapphic romantic comedy Bottoms directed by Emma Seligman (whose bisexual dramedy Shiva Baby was met with critical acclaim in 2021). But for as long as the art form has existed, queer filmmakers have existed too, even when largely ignored by the mainstream.
Cheryl Dunye's The Watermelon Woman shattered stereotypes with its release in 1996. It was the first US feature film to be directed by an 'out' Black lesbian, with Dunye directing and starring in the movie. Her feature was a breakout moment for the LBGTQ+ community, marking a high point in New Queer Cinema of '90s, and follows plucky protagonist Cheryl as she tries to make her way as a documentary filmmaker, working at a video store and filming weddings as a side hustle. She develops a fascination with a Black actress from the '30s named Fae Richards, known for playing "mammy" roles in black and white films. Part mockumentary, part romantic comedy, Dunye gives the middle finger to lesbian stereotypes and makes her own path.
But Fae Richards, whom Cheryl becomes fascinated with, is not real. Her story, however, is informed by the experiences of actual Black women throughout history, such as Butterfly McQueen and Hattie McDaniel, who were relegated to playing the role of maternal figures or doting servants to wealthier white characters in many popular films of the era, from D.W.Griffiths' racist 1915 drama The Birth of a Nation to Gone With the Wind (for which McDaniel won an Academy Award). These "mammy" roles, as they came to be known, are particularly harmful due to the implications that Black people are content with their place as slaves or servants to wealthy white families, and 'The Watermelon Woman' refers to the racist nickname ascribed to Richards within the film – she was placed into a box, like so many real Black actors of the era, limiting her options and performances as to never upstage the white actors.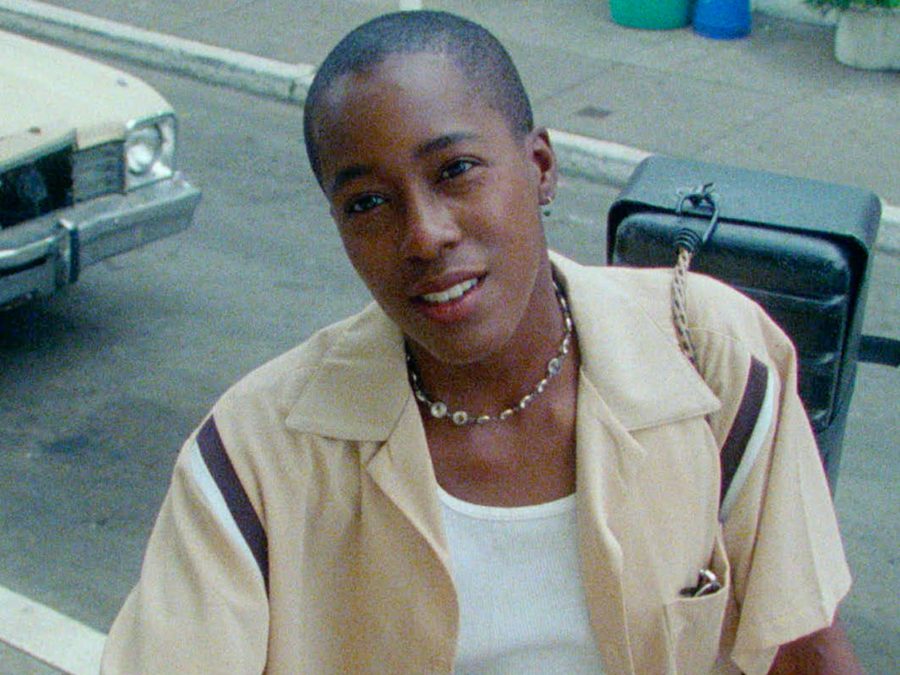 Cheryl is immediately obsessed with Fae after spotting her in the fictional film Plantation Memories, and sets out to create a documentary exploring her life. As she delves into her research through talking head interviews, she learns of the actor's talent as a singer, and her secret love life with various women. But finding details about a Black actor from the '30s is frustratingly difficult, as any specific information is either unrecorded or forgotten.
While the premise seems uncompromisingly political, Dunye paints a brilliant picture of an awkward blossoming romance between Cheryl and white lesbian Diana (Guinevere Turner) alongside the exploration of Fae Richards. Set behind the backdrop of bustling Philadelphia, the city's lesbian scene is depicted with vibrancy and humour. It is often reminiscent of Alison Bechdel's long-running comic strip Essential Dykes to Watch Out For, where queer stories are shown with an element of autobiography.
The most poignant scenes in The Watermelon Woman involve Cheryl's sex life. So many sapphic relationships – even those which achieve critical acclaim – are filmed from the perspective of a male observer, and as a result feel more like an imagination of how queer couples have sex rather than showing the often playful aspects of such situations. The intimate scenes between Cheryl and Diana are sensual, lit with warm pinks and yellows, and it feels as if the camera is not there at all. Yet Cheryl and Diana's relationship is far from perfect, and things get tricky quickly. As Cheryl's friend and co-worker Tamara (Valarie Walker) says: "All I see is that once again you're going out with a white girl who wants to be Black." The film does not shy away from the intersection between the queer and Black community – a topic that filmmakers today still struggle to depict realistically.
One of the most intriguing aspects of Dunye's film is her masterful melding of reality and fiction. The lives of Cheryl and Fae increasingly converge throughout. Their relationships start to take on a similar narrative, as Fae was known to be dating the white director of Plantation Memories, Martha Page, and Cheryl struggles with her romance with Diana. Ultimately the figure of Fae Richards affirms that queer Black women have always been here and will not be going anywhere. Even though their histories have been erased, there will always be people determined to show that they existed.
Dunye's influence on film is far from over. In the years since The Watermelon Woman, she has written for Netflix hit series Bridgerton, and has been developing an adaptation of Scottish poet Jackie Kay's novel about a trans jazz musician. As The Watermelon Woman enters the Criterion Collection with a new 2K digital restoration, more audiences will have the chance to experience the film for the first time – hopefully bringing Dunye more work with it, and inspiring a whole new generation of queer filmmakers.
The Watermelon Woman is available on Criterion in the USA on July 11 2023.
Published 27 Jun 2023
About Post Author