The rom-com is an important and underrated genre of film – where else can an audience find comedy, happiness, angst, character development, and a love story that will always have a happy ending? It's this guaranteed positive outcome that makes LGBTQ+ rom-coms so important and a refreshing change from queer media marred in sadness (and often death). With an LGBTQ+ rom-com, the audience knows that for once they won't be finishing the film feeling miserable or upset instead of hopeful and delighted.
Compared to heterosexual rom-coms, there aren't nearly enough films that centre LGBTQ+ characters, but there are definitely some worth spotlighting – such as Ol Parker's 2006 British title Imagine Me & You.
Piper Perabo stars as Rachel, who locks eyes with Lena Heady's Luce at her wedding and is instantly drawn to her. Luce is gay and owns a flower shop – she's the florist hired to help with Rachel's wedding to her longtime boyfriend, Heck (Matthew Goode). She and Rachel instantly hit it off, and become fast friends.
Despite a seemingly happy marriage to Heck, Rachel becomes closer and closer to Luce. When the two become more than friends, she starts to question her sexuality and soon has to make the difficult decision between the man she's always loved, or this instant connection that might just mean that love at first sight really does exist.
Imagine Me & You is a beautiful film, full of longing looks between Luce and Rachel – it's also a quintessential quaint British rom-com (think Notting Hill) which makes the fact that it centres a lesbian romance particularly refreshing since British rom-coms rarely focus on non-heteronormative relationships (and we need more gay British rom-coms, please, and thank you!)
It's also hilarious, with some quotable lines (Luce's friend Edie's infamous response to being asked if she's gay – "Am I gay? I'm ecstatic!" springs to mind). Rachel's family, with her charmingly bumbling dad played by Anthony Head, and her overbearing but loving mum played by Celia Imrie, also provide moments of comedy, such as when finding out that Rachel is interested in Luce, Rachel's mum, trying to process this, asks if they are "lesbi-friends."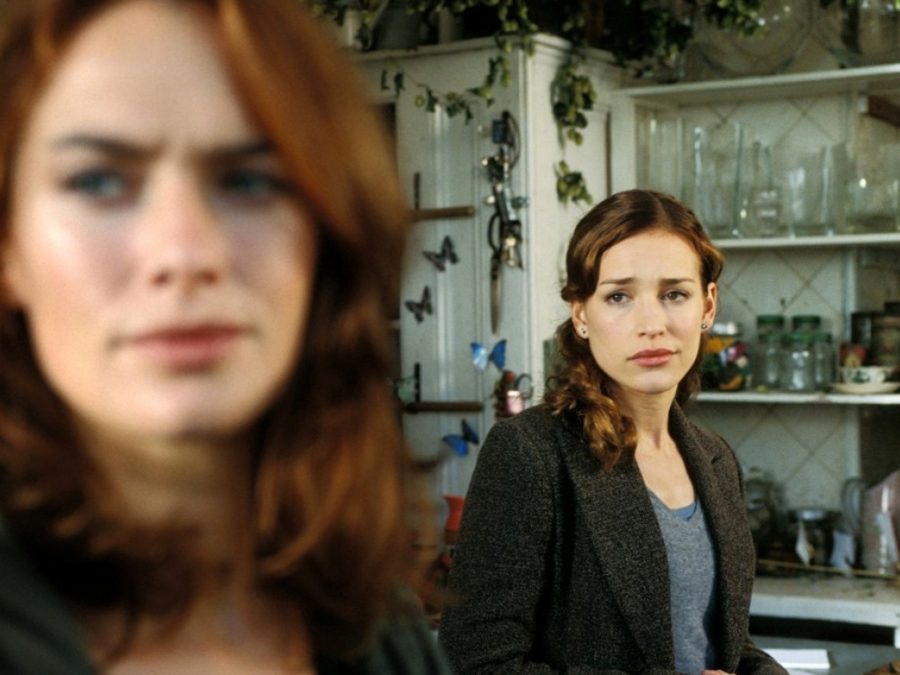 Crucially, it's a film that's full of nothing but joy. While there's some angst and sadness thrown in, there's a wonderful happy ending for all characters, but especially for Luce and Rachel, making it a great addition to the LGBTQ+ rom-com canon.
Despite being a sweet and worthwhile rom-com, Imagine Me and You definitely isn't perfect. It includes a couple of damaging tropes, namely that Rachel cheats on her husband, Heck, to be with Luce. This is a prevalent plot device in media, including LGBTQ+ romances, which furthers the harmful stereotype that LGBTQ+ people, particularly those who are bisexual or pansexual (although Rachel never labels her sexuality in the film), cheat on their partners.
Then there's Heck's friend, Coop, played by Darren Boyd. He's a "womaniser" who immediately starts to pursue Luce. He makes a few lesbophobic remarks throughout the film, and while he does end up being an unlikely alliance for Luce when he finds out he hasn't got a chance with her, their friendship is overshadowed at times by his attitude. His happy ending is the sudden reveal that he now has a baby daughter. It feels like Barney Stinson's ending in TV sitcom How I Met Your Mother – the philanderer is redeemed by having a daughter of his own.. He's played well by Boyd, but his addition to this queer rom-com does reduce its impact as representation in parts, given some of the reductive comments that he makes. While being a great film and key LGBTQ+ rom-com overall, Imagine Me and You is undeniably dated, given the fact that it came out 16 years ago.
Thankfully there are more modern additions to the canon that don't fall into using these reductive tropes and are great pieces of media and LGBTQ+ representation in their own right. Heartstopper, the popular TV series based on Alice Oseman's graphic novels of the same name, broke records when it landed on Variety's Trending TV list for five consecutive weeks. A love story between teenage schoolboys Charlie and Nick, it's also already been renewed for two more series by Netflix. There's also Fire Island, a modern gay rom-com about a group of friends on holiday, inspired by Jane Austin's 'Pride and Prejudice,' and Crush, a coming-of-age lesbian rom-com about a schoolgirl who joins a sports team to get closer to her crush, only to end up closer to another teammate.
It's incredible to see more and more television shows and films added to the LGBTQ+ rom-com canon, building on the legacy of media like Imagine Me and You, resulting in even better and more impactful stories. Hopefully, they keep on coming – everyone deserves to smile, weep, laugh, and ultimately enjoy a love story that includes people like them getting their happy ending after all.
Little White Lies is committed to championing great movies and the talented people who make them.
By becoming a member you can support our independent journalism and receive exclusive essays, prints, monthly film recommendations and more.
Published 18 Jun 2022