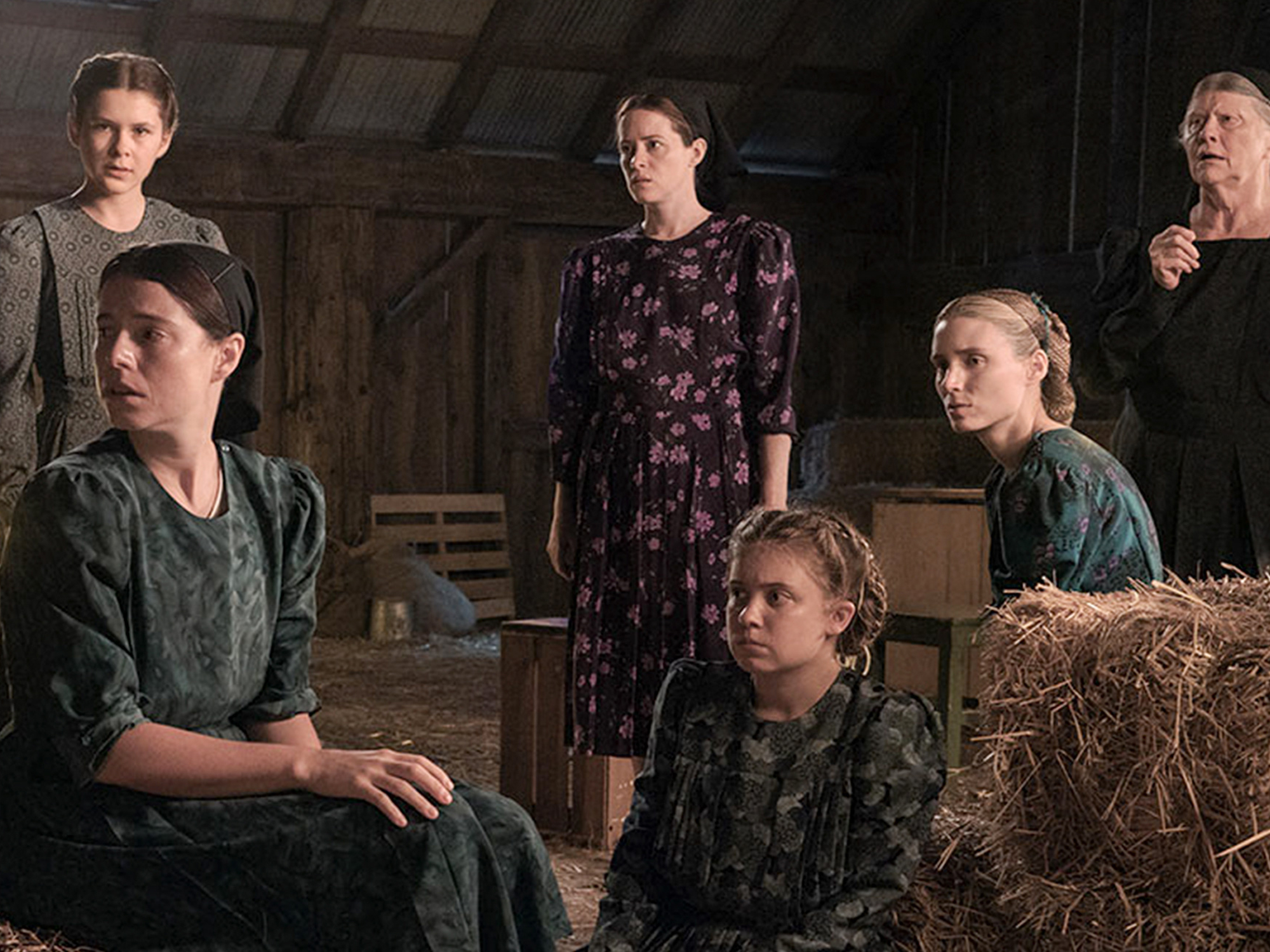 A group of women meet in secret to discuss escaping their abusive, isolated colony in Sarah Polley's adaptation of Miriam Towes' novel.
Adapted from Miriam Toews' 2018 novel – itself based on the real-life happenings of the Manitoba Colony of Bolivia in 2011 – Sarah Polley's Women Talking surveys a group of implicitly Mennonite women deliberating their fate after discovering that the men of their colony have been drugging them and their daughters with horse anaesthetic and raping them in the night. The film thus begins with a vote: forgive the men, stay and fight, or leave altogether. When the consensus is split between the latter two, the audience is shuttled into a hayloft with eight of the women as they start up a Socratic dialogue about empty omnipotence, whether forgiveness sanctions permission, and the potential for reform within a collective which structurally undercuts their livelihood.
Diverse in age and sensibility, the group plunks on about the ethical dilemma in their laps: should they turn against their abusers, these women run the risk of ex-communication and, subsequently, the supposed denial of entry into Heaven. Salome (Claire Foy) is detached from such divine concerns, having gashed one of the male offenders with a scythe upon discovering her four-year-old daughter was assaulted. Her antipode, Mariche (Jessie Buckley) is unconvinced that the women can curb such institutional violence in a godly enough way.
The zen, smiling Ona (Rooney Mara) mediates the pair, occasionally indulging the idea of forgiving the attackers. Here, three formally precise actresses deliver three formally precise performances; the sort of great, watchable soliloquizing which will surely play well during Oscars season. But it's the colony's elders – Greta (Sheila McCarthy) and Agata (Judith Ivey) – who shoulder the plot, tendering an exhausted and resilient account of a life spent braying under a thumb.
Also conspicuously present at this meeting is August (Ben Whishaw, Paddington incarnate), a docile schoolteacher keeping the minutes, as none of the colony's women are literate. August represents the sort of benign goodwill the women wish to preserve within their young boys, but there's a reverberating dread of their potential for pubescent sexual violence – of thuggish masculinity simmering behind boyhood.
August is weepy and apologetic, allowed to participate because of his seemingly unthreatening, "feminized" disposition. The efficacy of Whishaw's perennial snivel and wobbly lower lip wanes quickly, though his role within the deliberation only grows. For a film about unprecedented female dialogism, there still exists a quiet intention to frame male listening, and supportive interjection, as nearly more revelatory than the interchange itself.
Shot by cinematographer Luc Montpellier, the film's palette is ashen and muddy, sapped of any blush until the coda, where tinges of reds and greens begin to emerge as tiny signposts of hope. Presumably an ugly visualization of the womens' bleak inner lives, the pronounced visual language of Women Talking limns its larger structural issues. That being, Polley's direction is harshly heavy-handed (Mara at one point regrettably utters the phrase "not all men") and features a series of violent semi-anachronisms—not least of all The Monkees' "Daydream Believer," an incredible and truly bizarre diegetic needle drop.
Wrongly dubbed a "#MeToo film" by many a male critic – the sort of put-on progressivism which capsules all institutional violence into a cheap genre – Women Talking is, however, buttressed by its sweeping ideologies, a fortifiable brick wall of "good politics" which don't challenge order so much as acknowledge its many disparities. The film certainly floats the idea of a new religion wrenched from the old, and the prospect of functional matriarchy, but one might also wonder how subtlety could embolden a text mutually indebted to feminist philosophy and Anabaptist dogma.
Published 12 Oct 2022
About Post Author